Irises are one of my favorite flowers – oh how I love my irises. But we're not the only creatures on earth who love irises… the dreaded iris borer loves them too. (shudder)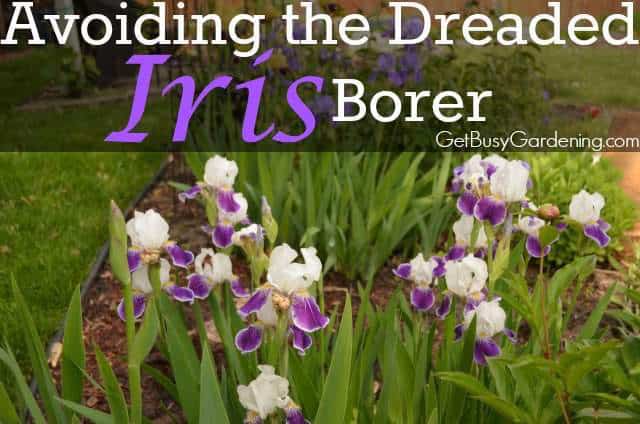 The first time I discovered that my irises were infested by the iris borer, I panicked. Yah, I was very, very upset. But don't worry, the iris borer is not a death sentence for your irises. It's really not that difficult to protect your irises from being damaged by the iris borer.
What is an Iris Borer?
The iris borer is a nasty fat ugly worm… err… is the larvae of the iris borer moth. Here's the nitty gritty… Iris borers burrow into the iris bulbs and feast on them from the inside out. Iris borers are pinkish in color, and look similar to a squash borer.
Iris borer moths lay their eggs on the foliage of iris plants in the late summer and fall, where the new generation of iris borers overwinter as eggs on the iris leaves. They can cause severe damage to iris bulbs, but aren't usually fatal to the plant.
Signs of the Iris Borer
If you have an iris plant that is turning brown in the summer, then get down on your hands and knees and take a closer look at the plant. Here are a few sure signs of iris borer infestation.
Tan colored streaks on the foliage of irises in early summer
Mushy stuff that looks like sawdust around the base of the plant, or the tops of the iris bulbs
Leaves that turn brown in the late summer
How To Avoid The Dreaded Iris Borer
Once the iris borer has infested your irises, it's difficult to get rid of them. The best way to protect your irises is to avoid the dreaded iris borer all together.
As I said before, iris borers lay their eggs on the leaves of the plant where they overwinter until spring. So, the best way to avoid the dreaded iris borer is to cut down your irises in the fall. Cut the plants all the way down to the tops of the bulbs.
Related Post: 5 Essential Fall Garden Tasks You Should Never Skip
Then, after you cut down your irises, throw the iris foliage into the garbage and remove it from your property. Do not throw iris foliage into the compost bin, because the eggs could just overwinter in there.
Related Post: How To Winterize Your Garden In The Fall
If you don't have time to cut back your irises in the fall, do it as soon as you can in the spring.
More Posts About Garden Pest Control
Have you had to deal with the dreaded iris borer in your garden? Leave a comment below and tell me about your experiences.
Pin It!