Squash is a bully in the garden, and it will take over if you don't control it. I used to grow my squash on the ground, and train the vines to stay in a neat row (well, as neat as squash can be). Not anymore, now the squash in my garden grows vertically. I built a squash arch to tame my squash, and now I have a wonderful piece of architecture in my garden too.
It was extremely easy to put this arch together. Originally, I was going to build it the same way I built my arched trellises for my beans and cucumbers. But the fencing I had isn't strong enough to hold up heavy squash on it's own around the top of the arch. So we (my husband helped me with this project) decided to add PVC piping to support it.
How To Build A Squash Arch
1. Measure and cut the squash arch materials: To make the arch tall enough, we needed two pieces of PVC pipe for each side. I measured to figure out how tall I wanted the arch, then I cut the PVC  and the fencing to the length I wanted.
2. Connect the pieces of the squash arch together: I used PVC connectors to put the pipes together, and PVC glue to hold it all together.
3. Weave the squash arch together: After the glue dried, I weaved the PVC into the fencing.
4. Anchor the squash arch: Next, we pounded rebar into the ground to hold the squash arch in place. This took four pieces of rebar, one for each end of the PVC pipe. The pipe slides over the rebar to hold it in place (I recommend testing each piece of rebar before leaving the store, some have wider ends than others).
5. Paint the squash arch (optional): Once the squash arch was up, I spray painted the PVC black to make it look like metal. You can paint it any color you want, be creative! Just make sure to paint it before you plant any seedlings so they don't get sprayed with paint. Also, it's better to paint the squash arch after you put it up. If you paint it first, then the paint will get scratched when you start to move the squash arch around.
That's it, building a squash arch couldn't be any easier. Amazing right? Who knew squash could be so beautiful! My favorite types of squash to grow on my arch are Sugar Pie Pumpkins, Butternut and Delicata. Many people are afraid to grow squash vertically because it's so heavy. But, most of the squash sit on top of the arch. If any squash start to hang down, I put them back on top. The heavy squash can also be supported by making a sling out of an old t-shirt or nylons to support their weight.
I'm super excited about this arch, I absolutely love it! So many people rave about it, and it's the focal point of my vegetable garden. It has made squash control very easy, and my squash no longer take over the garden. It also makes harvesting the squash a breeze, since I don't have to bend down and hunt for it. What do you think? Are you going to try building a squash arch for your garden?
Interested in building your very own squash arch? Click the "Add To Cart" button to purchase your step by step instructions, for only $0.99! (via PayPal)
Building A Squash Arch – Step by Step Instructions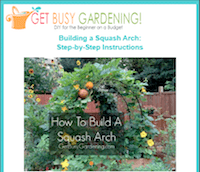 This post contains affiliate links. These affiliate links help support this site. Thank you for supporting Get Busy Gardening!