By: Amy Andrychowicz
Vertical gardening is super popular these days, and it's a wonderful way to grow your own food! This vertical gardening project bundle includes full step-by-step instruction for building 5 unique DIY vertical gardening projects.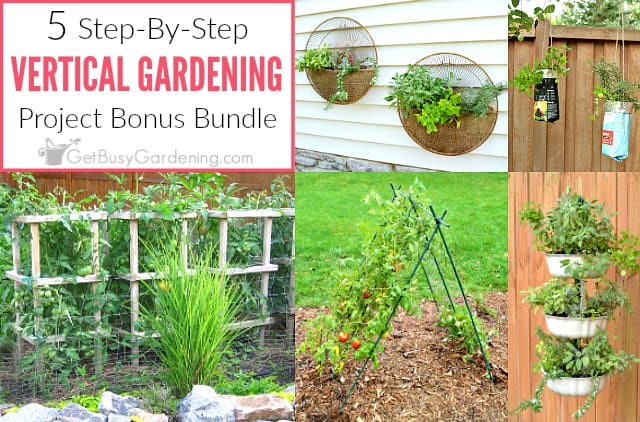 Get all 5 projects for only $14.97
Vertical Gardening Projects Bundle
Whether you're looking to add beauty and function to your garden, or you simply want to try growing food in fun and exciting ways, these projects are for you!
From hanging planters and vertical containers, to functional gardening structures, these vertical gardening projects are perfect for growing more food in less space.
This bundle includes easy to follow instructions that will show you step-by-step exactly how to build each project, including full color photos to help guide you through the steps. Here's what you'll get with the bundle…
A-Frame Trellis
Upcycled Coffee Bag Hanging Planters
Sturdy Tomato Cages
Three-Tier Vertical Hanging Planter
Upcycled Fan Grill Planters
A-Frame Trellis
A-frames are a classic vertical gardening structure, and they're a double space saver in the garden too. Grow vining plants, cane crops or indeterminate tomatoes over the top of the trellis, then plant smaller crops, like lettuce or herbs underneath.
For this project, my goal was to design a simple trellis using inexpensive materials that are easy to find. Heck, you may even have everything you need to build this a-frame trellis already on hand!
This is the perfect size for growing peas or cucamelons, and it's strong enough to support heavier vegetables like tomatoes or cucumbers.
Upcycled Coffee Bag Hanging Planters
These adorable coffee bag hanging planters add unique pops of color to the garden, and are super easy to make. They would also be a really fun way to give plants as gifts, or to use as party favors at a wedding or coffee-themed gathering.
The bags are nice and deep, and would be perfect for growing small crops like herbs and salad greens, or even strawberries. Plant a bunch and dangle them over your deck, porch or balcony to create a unique and environmentally friendly vertical garden.
Sturdy Tomato Cages
Is there anything more frustrating than trying to use those flimsy wire tomato cages to support full grown tomato plants? I finally had enough of messing with constantly staking and propping my tomatoes all summer, so I decided to build something much sturdier.
These sturdy tomato cages are easy to build, look great in the garden, and are strong enough to support the largest and heaviest tomato plants you'll ever grow! You can even paint them to add pops of fun colors to the garden!
Three-Tier Vertical Hanging Planter
This large three-tiered vertical hanging planter is not only beautiful, it offers an impressive amount of growing space too. It's perfect for adding extra growing space to a patio, deck or balcony.
Hang it near your kitchen so that you can easily step out and harvest fresh herbs or salad greens whenever you need them. Or fill it with ever-bearing strawberries, and enjoy fresh fruit all summer long!
Upcycled Fan Grill Planters
When one of our fans died last summer, I decided to keep the grills and turn them into cute vertical planters. These adorable upcycled planters are perfect for hanging on a wall or fence, and can be painted to match the décor on your garden, deck or patio.
I filled my fan grill planters with colorful herbs, but other small crops like salad greens or strawberries would work just as well.
Whether you're a brand new gardener who wants to try growing vertically for the first time, or a seasoned expert, you will love making these DIY vertical gardening projects!
This 5 project bundle is just what you need to get started growing vertically! Add beauty and flair to your yard and garden by growing food in these unique vertical gardening structures.
Get all 5 projects for only $14.97