Have you ever noticed how red flowers always seem to get the most attention in the garden? I mean, even a single red perennial flower in a garden full of other plants draws the eye right to it. It's kind of… fascinating. I know one thing for sure – as far as flowers go, red is definitely one of my favorites, and I work to add it into my gardens as much as I can.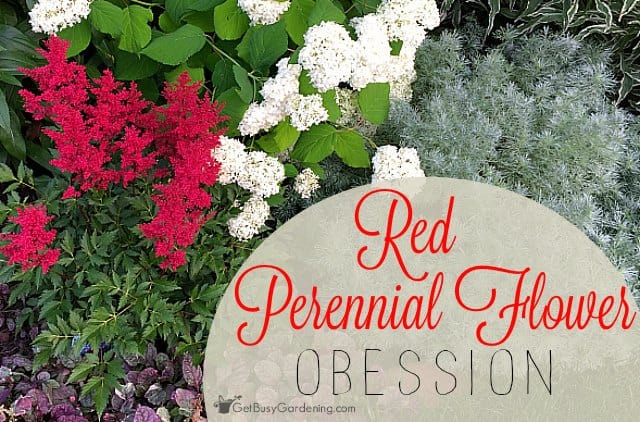 What Is It About Red Flowers In The Garden?
One of the main reasons red stands out so much in the garden is that red and green are complimentary colors. If you remember waaaaaaaay back (well, maybe not that far back) to elementary art class… complimentary colors create the strongest contrast when combined with each other than they do with any other color. That's why any red perennial flower naturally adds an amazing amount of pop in the garden, and really commands attention (and also why I'm so obsessed with them)!
Another benefit of red perennial flowers is that hummingbirds love them! Red is their favorite color. And if you can find one that is native to your growing zone… even better! Bees, butterflies, hummingbirds and other beneficial visitors are sure to flock to it.
My Current Red Perennial Flower Obsessions
Like I said, I'm always working to add as much red to my perennial gardens as possible. Red is a pretty common color when it comes to annuals and tropical plants, but there aren't as many red perennial flowers to choose from (especially when you live in a cold climate like I do). But don't worry, there are still lots of options – and here are my current obsessions…
Cardinal flower – Talk about a hummingbird magnet! Red cardinal flowers not only add major pop in the garden, but they are native perennials. They are perfect for a wet, swampy area of your garden or the basin of a rain garden.
Poppies – I am obsessed with poppies of any color, but especially love the bright red ones! They are so stunning in the garden, they practically stop traffic (ehem, that might be because I slam on my breaks when I see them, LOL).
Azalea – I especially love the contrast of bright red azalea flowers against the dark glossy foliage. It's a drool-worthy combo in any shady garden area. Oh, and red stands out even more in the shade garden! XOXO
Rudbeckia – Oh rudbeckia, what would I do without you? There are so many varieties of rudbeckia to choose from that you could seriously do an entire garden area with them, and it would be stunning (although, it would only bloom once per year… so, there's that). Red rudbeckia flowers are especially gorgeous, and becoming very popular perennials. I definitely need to add more of them to my garden!
Lilies – You really can't go wrong with lilies – and they are everywhere! But red is definitely one of my favorite color of lily flowers.
Astilbe (cover photo) – I fell in love with astilbes early on in my perennial gardening life, and I think I might just love them even more now. Astilbe was the first perennial plant that I bought with my own money, and one of the first things I planted in my garden when I bought my first house. Those original plants are still growing strong today (and have even been divided a few times).
Coneflowers – These days you can find some pretty cool looking coneflowers, and my current favorite is this 'Hot Papaya' double coneflower. There are also single coneflowers that come in red if you prefer the look of those (I have a few currently on my wish list).
Weigela – While weigelas come in a few different colors, including red of course. I'm growing 'Red Prince' weigela in my garden, and it's covered with cute little red flowers during the early summer that really pop against the light green leaves.
Perennial hibiscus – When my neighbors red perennial hibiscus started to bloom for the first time, it stopped me in my tracks. Before then, I had never seen red perennial hibiscus flowers in my growing zone. Talk about a traffic stopper! Those huge red perennial flowers are a must in my book!
Yarrow – Yep, you can find yarrow flowers in red too. I have grown one called 'Paprika' in my garden before, and it's another stunner. If you're familiar with yarrow, you know it has really cool looking wispy foliage that happens to be a lovely shade of green. The perfect contrast for this spicy red perennial flower.
Roses – I'm willing to bet that when you thought about red perennial flowers, one of the first things that popped into your head was roses. Well, no list of red flowers would be complete without roses – a classic staple in every garden.
Clematis – Another amazing red perennial flower comes in the form of a clematis. These wonderful climbers cover a trellis pretty quickly, and make a wonderful backdrop to any garden area. Imagine a trellis in the back of your garden covered in red clematis flowers. Pretty amazing right?
Bee balm – Bee balm is appropriately named because these flowers are total bee magnets – and they are another one or our awesome native perennials (though the color of the original native flower is a light purple).
Red honeysuckle – Talk about a hummingbird magnet, red honeysuckle is one of their favorites! This gorgeous climbing perennial vine would look fantastic growing over an arbor or garden arch. I mean WOW, what a statement!
Dragons blood sedum – Sedums and succulents are my favorite types of plants, and I grow as many hardy varieties as I can here in my cold climate. Dragons blood sedum is definitely one of my favorites because it has a dark red flower that carpets areas of my perennial gardens (you can see it on the right side of the photo below). I mean, look at how it contrasts with that bright yellow/green variegated sedum. Oh, that makes me so happy!
Lychnis – You may have noticed that there's another red perennial flower popping out at the bottom of the photo above too. That one is Lychnis arkwrightii 'Orange Gnome'. Even though it's named 'Orange Gnome', the flower on this one looks bright red in my garden.
Tulips – When you add red spring blooming flowers to your garden, you will get to enjoy this gorgeous color even earlier in the season. What a welcome sight for sore eyes in the spring. Plus, could this color combo be any more perfect? (Just make sure to protect them from hungry bunnies, grrr!)
Sedums – Like I said before, sedums are one of my favorite plants, and they are becoming very popular perennials around here. The 'Red Cauli' is a tall variety that not only has stunning red flowers, but the foliage is also gorgeous in the garden even when the flowers aren't blooming.
Unlike in fashion, red goes with everything in the garden! I also think that red flowers add a bit of a formal feel to the garden as well. Maybe that's because red perennial flowers command attention, so they feel more formal to me.
Hopefully you've found some new obsessions for adding red to your perennial gardens. The next time you're going shopping for garden perennials, make sure you take this list of red perennial flowers with you. Trust me, no garden is complete without bold pops of red.
Recommended Reading
More Posts About Perennial Gardening
Do you have a current red perennial flower obsession? Share your favorites in the comments section below.
Pin It!