Blueberry jelly is quick and easy to make, and this recipe is so delicious. So you can whip up a batch whenever you have a craving.
If you have always wanted to make your own blueberry jelly, but felt uncertain where to start, this recipe is for you.
It's perfect for slathering on your toast, muffin, or biscuit for breakfast, snacks for the family, dolloping on your favorite dessert, and more!
In this post I'll show you exactly how to make your own homemade blueberry jelly, step by step.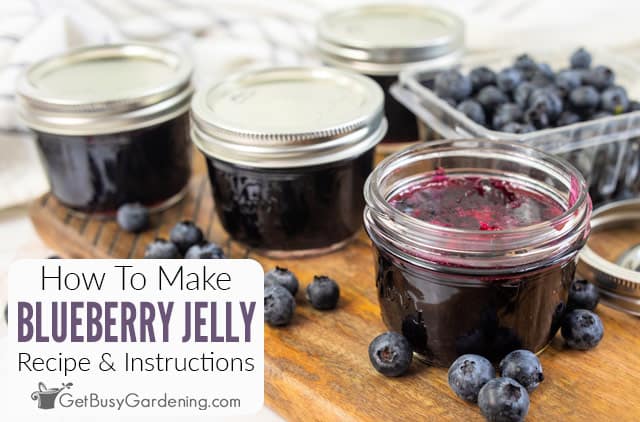 Best Types Of Blueberries For Homemade Jelly
All types of blueberries are good for making homemade jelly, no matter what variety you have.
What is important is that you pick the most plump and ripe ones to ensure the best flavor for your end product.
Avoid using blueberries that are hard, green, and unripe, as they are not sweet or juicy enough.
Blueberry Jelly Vs. Blueberry Jam
The main difference between blueberry jelly and blueberry jam is that jelly is made with strained juice, thus there are no fruit pieces.
Jam is made with mashed fruit and has a thicker, chunkier texture. Both are delicious, but their texture is different. You can find my recipe for making blueberry jam here.
How To Make Blueberry Jelly
This blueberry jelly recipe is requires only 3 simple ingredients, blueberries, sugar, and pectin. All of which are very easy to find.
Blueberry Jelly Recipe Ingredients
Below I'll give you the details of exactly what you need to make this recipe. Once you have the items on hand, you can make it anytime you want.
Blueberries – This is the main ingredient of our recipe. It's very important to use whole, plump, and ripe fruits for the best results. If you don't have fresh, you could use frozen instead.
Sugar – This adds extra sweetness and enhances the natural flavors of the blueberries. It also interacts and gels with the pectin, which enhances the strength and consistency of your jelly.
Tools & Equipment Needed
Below are the tools and equipment you'll need to make this blueberry jelly recipe. Gather everything ahead of time to speed up the process.
Preparing Blueberries For Making Jelly
To prepare your blueberries for making jelly, first simply rinse them under water and remove any stems.
Then you'll need to cook them and mash them up to release the juices. After the cooking time is done, you'll strain out the skins and fruit pieces so all that's left is the juice.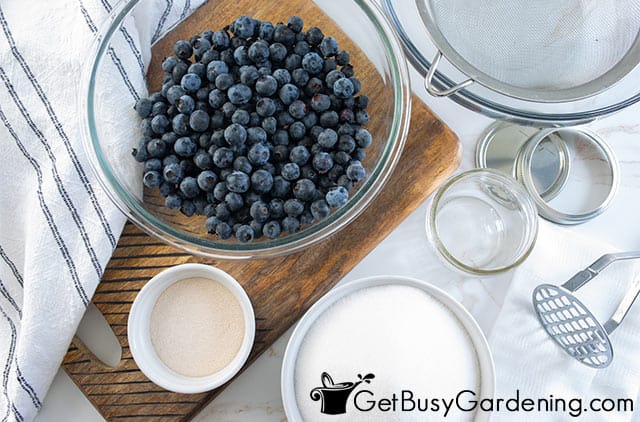 Tips For Making Blueberry Jelly
Though this recipe is very easy to make, below are a few tips to help you be successful making your own blueberry jelly.
Be sure to test the thickness of your jelly by using a cold metal spoon. You'll know it's thick enough when it falls slowly from the spoon. If it's not thick enough, keep simmering it until it is.
Related Post: How To Grow Blueberries At Home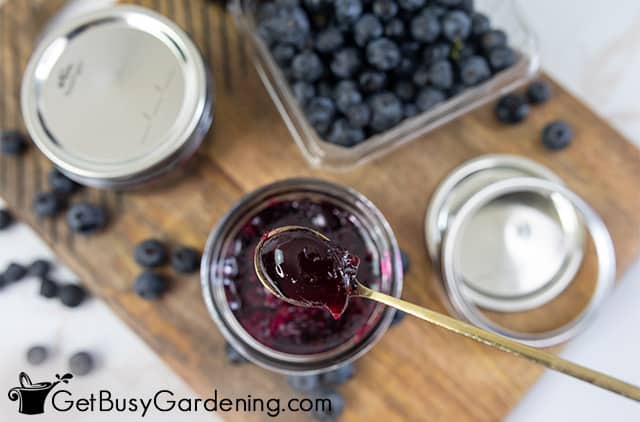 Can You Make Blueberry Jelly Without Added Pectin?
No, you can't make blueberry jelly without added pectin. Blueberries are naturally low in pectin. For the juices to gel and thicken into jelly, you'll need to add pectin.
Can You Make Low Sugar Blueberry Jelly?
You can make low sugar blueberry jelly by modifying my recipe if you want to. But some sugar is needed to offset the bitter flavor of the pectin, and also gel with it to thicken the jelly.
But you can try replacing the sugar with the same amount of stevia, or a ½ cup less if it's too sweet, and then use only 3 tablespoons of low sugar pectin rather than the regular kind.
You can also try reducing the amount of sugar to 3 cups and adding 1 cup of honey.
Can You Can Blueberry Jelly?
You could can this blueberry jelly recipe if you'd like to. Since blueberries are naturally acidic, it's safe to use the water bath method.
If you want to canning this, simply clean and prepare your jars. Then, fill your water bath canner and bring it to a boil.
Fill the hot jars with hot blueberry jelly, leaving ¼" of headspace. Fasten the lids and bands on top then process the jars for 10 minutes in the boiling water bath, adjusting the time for altitude if necessary.
Related Post: How To Can Blueberries
How To Store Blueberry Jelly
You can eat your blueberry jelly right away while it's still warm, or store it for later.
If you canned it, once it's cooled remove the bands and store the jars in a dark cabinet or pantry. Otherwise, keep it in your refrigerator or freeze it.
How Long Does Blueberry Jelly Last?
When stored properly your blueberry jelly will last for 3 weeks in the refrigerator, or up to 6 months in the freezer.
If you chose to can it, the jars will stay good for 12 months. Be sure to always check that the lid is still sealed tightly before eating it.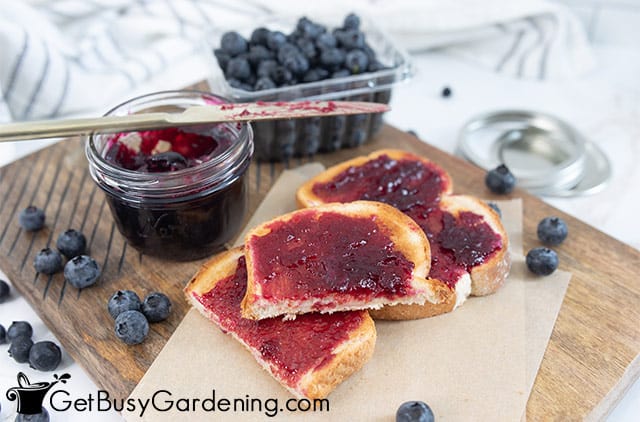 FAQs
Here I've answered some of the most commonly asked questions about making blueberry jelly.
Why isn't my blueberry jelly setting?
There are two common issues that can keep blueberry jelly from setting: cooking it at too high of heat, and recipe measurement errors. It's important to always follow the exact measurements for all of the ingredients in the recipe, and take care to cook your jelly at the proper temperature, as too high of heat damages the pectin's ability to gel.
Why is my blueberry jelly more like jello?
Blueberry jelly can become more like jello if you use too much pectin or when you overcook it. If it becomes too thick like this, you can thin it out by slowly mixing in water, 2 tablespoons at a time, until it reaches the consistency you desire.
Can you use frozen blueberries for jelly?
Yes, you can use frozen blueberries to make your jelly. Just be sure to defrost them under water first before following the recipe.
How can you thicken blueberry jelly?
You can thicken blueberry jelly by adding more pectin, I recommend using the no-sugar variety to avoid adding more sugar. Start by whisking in one tablespoon then test for thickness. If it's still too thin, add 1 more tablespoon. Generally you should only need to do this once or twice to achieve the perfect thickness.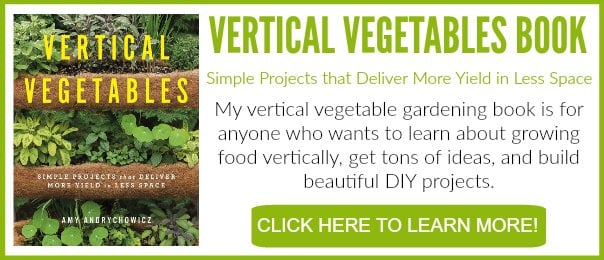 If you'd like to learn how to make the most of your space and get as much homegrown food as possible, then my Vertical Vegetables book is perfect! It will teach you all you need to know, has tons of gorgeous photos, and includes 23 DIY projects you can build for your own garden. Order your copy today!
Learn more about my Vertical Vegetables book here.
More Garden Fresh Recipes
Share your tips for making blueberry jelly or your favorite recipe in the comments section below.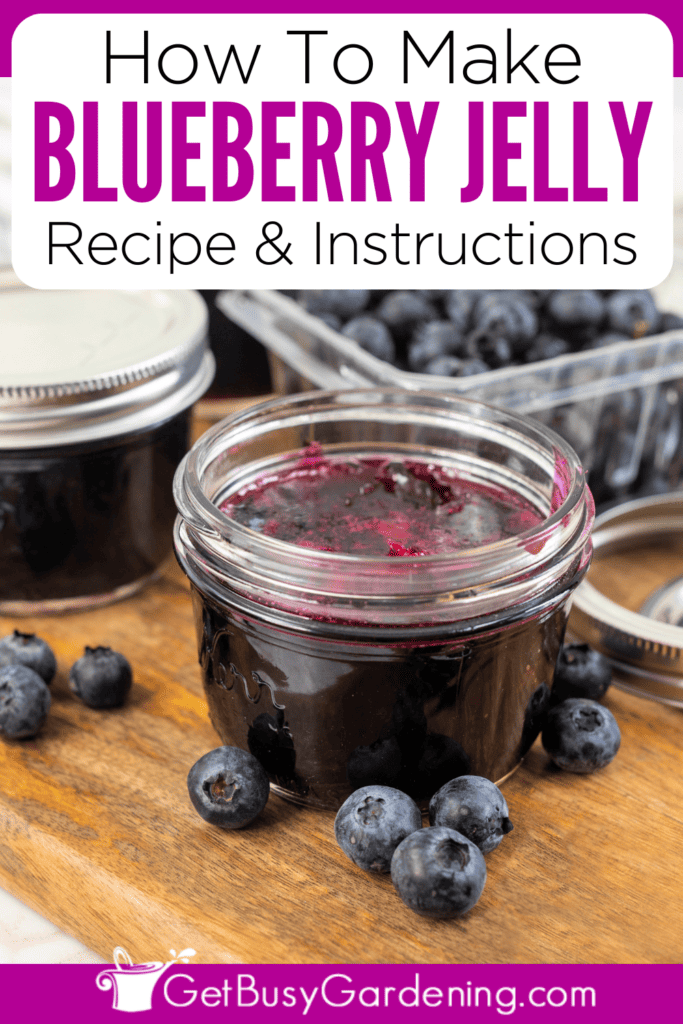 Recipe & Instructions