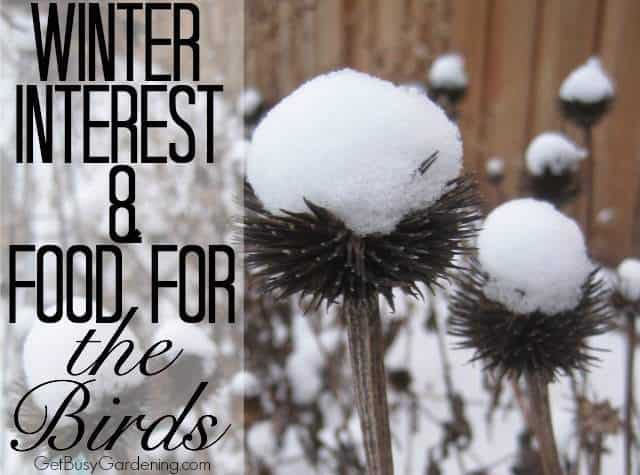 When I first started gardening, I used to cut down all of my perennials and annuals in the fall. I never gave any thought to them being potential food for the birds.
As my gardens expanded and I had more and more plants, I started leaving many of the taller plants in the garden for winter interest. (When everything is covered by snow, the landscape looks baron and depressing.)

This habit also allowed me to stop freaking out about winterizing my gardens, and instead split my garden cleanup tasks between fall and spring to make things easier for myself.
What Do Birds Eat In The Winter?
I've always liked to watch the birds eat the berries on my barberry bushes in the winter. But the first year I intentionally left some plants in the garden for the winter, I got more excitement than I expected.
I noticed that the birds in the garden were also eating the seeds from the plants I left out there. How fun! Attracting and feeding birds in winter was a complete afterthought to my plan.
Related Post: 5 Essential Fall Garden Tasks You Should Never Skip
It makes so much sense though, the birds help with the garden cleanup by eating the flower seeds. They also help spread them around the garden, giving you new plants (which can be both a blessing and a curse).
Minnesota winters are long and cold. It feels so good to continue to see life in the garden throughout the winter. And it's so much fun to see the birds busy feeding on the seeds in my garden.
Many birds migrate out of Minnesota during winter (and who can blame them?). But there are several types of winter garden birds that stay here, and they will continue to visit the gardens all winter if there's food for them.
Plants That Feed Birds In Winter
The birds love to eat garden seeds during the winter. There are tons of different types of plants with seeds to feed the birds, both annual and perennial. Here are a few of my favorite plants for feeding birds in winter…
Coneflowers
Sunflowers
Zinnias
Marigolds
Tall grasses
Coreopsis
Liatris
Gaillardia
Black Eyed Susan
One word of caution here, some plants will reseed themselves prolifically (especially black-eyed Susans). So if there's something you don't want spreading like a weed, cut the seed heads off in the fall. I love you birds, but I refuse to leave the black-eyed Susan seed heads out for your snacking pleasure.
I'm definitely going to pay more attention to the plants that feed birds in winter, and leave more out next year. Humm…. maybe I'll have to plant more perennials that have seeds and berries for the birds too.
What plants do you grow that provide food for the birds throughout the winter? Share your list in the comments below.