People are always asking me about what type of soil they should use for their succulent containers. As you probably already know, succulents prefer a well draining soil to grow their best. The #1 cause of succulent death is overwatering, which is a huge problem if you use the wrong type of soil. So to avoid overwatering, it's best to use a gritty succulent soil mix for growing your succulents and cactus plants.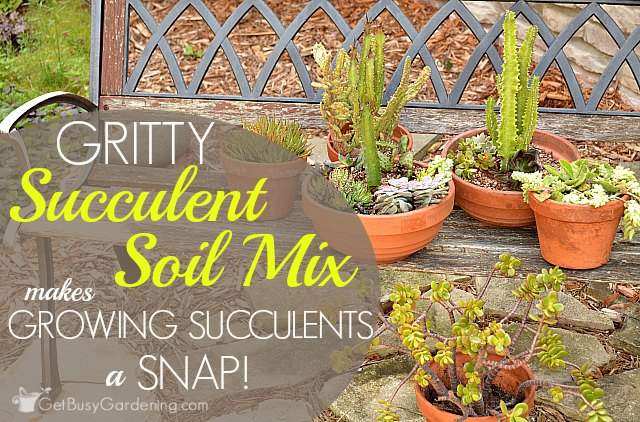 Succulents are my favorite types of plants, and I have a lot of them. I love playing with them, and I'm always busy repotting them, creating succulent gardens, and propagating the heck out of them. It's so much fun.
I also love experimenting when it comes to growing plants and gardening! I'm always trying new products, recipes, plants, projects… you name it! (And it's so awesome that I get to share my experiences with you too) So when Bonsai Jack contacted me earlier this summer and asked me to put their gritty succulent soil mix to the test, I said "heck yes!".
Gritty Succulent Soil Mix Makes Growing Succulents A Snap!
When it comes to growing plants (especially cacti and succulents), the type of soil you use is super important. I mean, you can buy potting soil just about anywhere these days, right? Well sure, but be careful… all potting soils are NOT created equal.
There are lots of different types of potting soils on the market, and some even say they are specifically made for growing succulents. But I find that many types of succulent soils on the market aren't gritty enough to drain quickly, and therefore hold too much water (which means it's very easy to overwater!).
Using a super gritty succulent soil mix to pot up your succulents and cactus plants will make overwatering almost impossible (especially if you grow your succulents in a clay pot). A well draining soil mix will prevent root rot that can quickly be caused by heavy soil blends. A gritty succulent soil mix really does make growing succulents a snap.
Another awesome thing I love about using gritty soil is that fungus gnats won't breed in there! When you have a large collection of plants like I do, soil gnats can become a huge problem! But since they need moist soil to live and breed, they can't survive in a fast draining gritty soil mix.
Related Post: How To Care For A Jade Plant
Bonsai Jack G
ritty Succulent Soil Mix
Earlier this summer, Bonsai Jack sent me a few bags of their gritty succulent soil mix to try, and the timing could not have been more perfect! I had just started propagating a bunch of succulent cuttings for a few new container gardens I planned to make this summer that same week, so I was able to put their succulent soil mix to the test right away.
I used the soil to create two shiny new succulent container gardens with the cuttings and extra plants I had (they turned out super cute BTW!).
I'm really excited to see how well my succulents grow in this new potting soil. I also can't wait to see the difference this gritty soil makes in caring for my succulents through the long winter months!
Related Post: 7 Easy DIY Potting Soil Recipes To Mix Your Own
Make Your Own Gritty Succulent Soil Mix
And for all of you DIYers out there, Bonsai Jack also sent me all the ingredients I need to make my own gritty succulent soil mix. Which means I can do some more experimenting!! Yippie!
Making your own DIY gritty succulent soil mix is super duper easy! Here are the ingredients…
For starters, all you have to do is mix together equal parts of the pine bark, Bonsai block and turface – and blamo, you just made your own gritty succulent soil (see, I told you it was easy)! Then you can play around with the mixture, and maybe try other ingredients like pumice to see if you like that better than the turface.
Related Post: The Ultimate Guide To Aloe Vera Plant Care
First Impression?
My first impressions of Bonsai Jack's gritty succulent soil mix and soil ingredients are great! It's like nothing I've ever used before, and I really love the way it looks in my containers. It was also very easy to work with, and potting up my succulents in the gritty succulent soil really wasn't any different than if I had used another type of potting soil.
Another thing I really like about Bonsai Jack is that all of their soil products are naturally organic, with the exception of the pine bark. But don't worry, the pine bark and products containing pine bark now have an organic option. Bonsai Jack will steam them instead of chemically treating it at the customers request.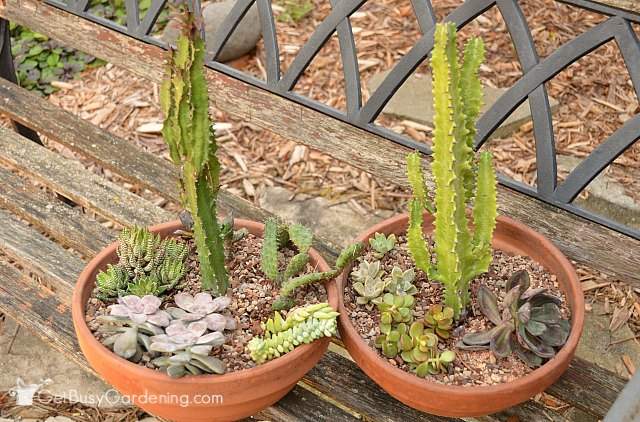 More Information About Succulents
Have you tried using gritty succulent soil before? Tell us about your experience in the comments below.