ATTENTION NEW GARDENERS: Are you feeling intimidated and overwhelmed by the thought of starting seeds indoors, or not sure how to get started? Discover now…
How to Successfully Start Seeds Indoors and Grow Strong Healthy Seedlings That Will Thrive in Your Garden So You Don't Have to Go Through The Heartache and Frustration of Losing Your Seedlings and End Up Spending Tons of Money Buying Plants
This Quick-Start Guide Will Show You How To Start Seeds Indoors - Even If You've Never Planted A Seed In Your Life
Are you feeling clueless about knowing when to start your seeds indoors so you don't end up with weak and leggy seedlings?
Have you tried starting seeds before, but it was an epic failure and all your seedlings ended up dying?
Are you worried that you'll waste time and money trying to start seeds indoors, only to end up buying plants from the nursery anyway?
I Understand Because I've Been There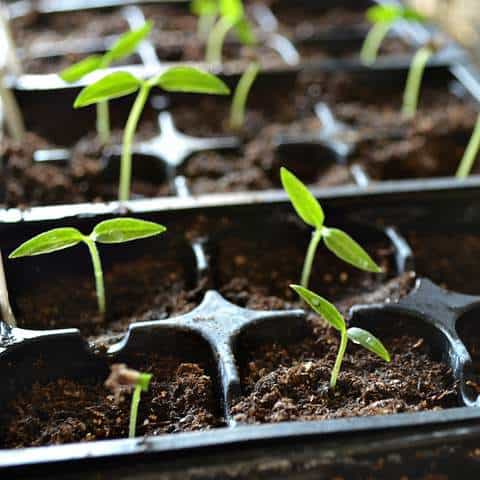 I know it's tough to get started when you're overwhelmed thinking about everything that goes into starting seeds indoors and caring for the seedlings.
I know what it's like to put all that hard work (and money!) into starting seeds indoors, only to watch your prized seedlings wither and die.
Or feeling like a failure because everyone else makes it sound like it's so easy to start plants from seed, but you haven't mastered that skill yet.
If you're stuck because you can't find straight answers to help you successfully start your seeds indoors, it's not your fault.
Searching for information on the internet is totally overwhelming, and much of the information about starting seeds indoors isn't even accurate or it's contradictory.
After buying my first house in 2002, I was totally house poor and didn't have a lot of money to start a garden in my brand new backyard, so I began experimenting with starting seeds indoors.
I had never started any seeds indoors before (except for one single bean seed in preschool, I wonder what ever happened to that poor thing).
Since then, I've grown most of my vegetables and annuals, and many of my perennials from seed. In fact, I hardly ever buy vegetable or annual seedlings at the garden center anymore.
Now I've broken it all down to make it easy for anyone to start their own seeds indoors and grow strong, healthy seedlings that will survive being transplanted into the garden.
Get Starting Growing Seeds Indoors Today
These basic seed starting methods will make starting your seeds indoors a snap - and help you avoid the most common mistakes made by newbies.
I've simplified the process so that you can quickly become successful at starting your seeds indoors, and growing beautiful healthy seedlings that will thrive in your garden.
Brilliant links by the way, I wish I had found this simple, concise write-up when I was researching the subject a couple of months ago. I had to plough through so much information on dodgy websites about how to grow illegal plants…

Kenny
Thank you for such thorough coverage of getting my new plants hardened off. I've hardened my seedlings off before, but I usually lost some because I just played it by ear.

This year, I'll be dealing with more expensive plants and I don't want to pay for them again. I can hardly wait to get started!! This information should help me get through our long winter months.

Thanks

Carol
Knowing exactly when to start your seeds indoors, so they'll be ready to transplant into the garden at the right time
Being able to grow any type of plant that you want from seed so you're not stuck with the limited varieties that garden centers carry
Preventing the common problems that cause seedlings to die and avoiding all the frustration and heartache of losing your seedlings
Feeling confident that your seedlings will not only survive, but they will thrive indoors and in the garden
Knowing the right equipment and supplies you need to get started growing seeds indoors without breaking the bank
Starting Seeds Indoors: A Quick Start Guide To Growing Your Garden From Seed will show you...
How to start seeds indoors step-by-step and which seeds are easiest for beginners
When to start your seeds so your seedlings will thrive indoors and be ready to plant into the garden at the right time
How to avoid common problems in order to be even more successful and confident about starting your seeds indoors
The critical steps you must take to ensure your seedlings will survive the transition into your garden
How to quickly and easily make your own seed starting soil
And much more...
You might be thinking, "Only $5, how good could this be?" There are four reasons why I'm selling this guide at $5.
I remember what it's like getting started while on a tight budget. $5 puts the guide within reach of the vast majority of people. It's not too expensive for anyone who wants to learn how to start seeds indoors.
At the same time I only want to work with people who are serious about learning how to start their seeds. Investing $5 shows me (and more importantly, shows YOU) that you're eager to learn, and will get the most out of your investment.
Anyone who IS serious enough to invest the price of one new plant to buy this guide has the opportunity to be able to grow anything they want from seed.
I look at this as the beginning of an ongoing relationship with you. When you see how much money this guide will save you, I know you'll continue to work with me to learn more about plants and gardening.
So if you're serious about learning how to start your seeds indoors, click the "Add to Cart" button below. If you need to justify the expense, skip one latte this week and it's paid for.
Click the button to get instant access to
Starting Seeds Indoors: A Quick Start Guide To Growing Your Garden From Seed
30 Day Money Back Guarantee
Read and use the guide risk free for 30 days. If you're not satisfied that it will save you money, just ask for a refund and I'll immediately give your $5 back. No hassle. No questions asked.
Now you have a choice to make.
A few weeks from now you could still be trying to piece together free information you find scattered around the internet, hoping that it will work.
or..
You can follow my Starting Seeds Indoors guide that simplifies everything for you. Get started growing your gardens from seed now.
Click the button to get instant access to
Starting Seeds Indoors: A Quick Start Guide To Growing Your Garden From Seed
P.S. This guide reveals the simplest methods for quickly learning how to start seeds indoors. It will show you exactly how to start your seeds, and grow healthy seedlings that will thrive in your garden. As you know, one quality plant costs more than $5. For less than the price of one plant, I'll show you how to grow any plant you want from seed.
P.P.S. Remember, your investment is 100% covered by my No Risk Guarantee. You can't possibly lose money. I've made it a no brainer.
Click any of the "Add to Cart" buttons on the page
Log in to your PayPal account OR select "Pay with a debit or card" (you don't need to have a PayPal account)
Complete your payment via PayPal
Check your email inbox for instructions on how to download your Ebook
Enjoy your Ebook!
Click the button to get instant access to
Starting Seeds Indoors: A Quick Start Guide To Growing Your Garden From Seed