Over the past few years, the trees in our neighborhood have matured and the squirrels have moved in. Ugh! I've never had to deal with squirrels in my yard and gardens before… yes, I've been lucky (up until now)! Thankfully I haven't had any trouble with the squirrels bothering my gardens (knock-on-wood), but they have been major pests on the bird feeders.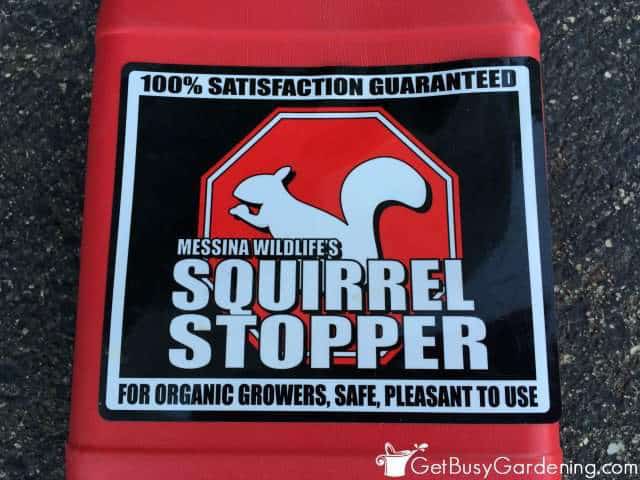 After the squirrels knocked down one bird feeder several times and destroyed another one, I decided it was time to take action. I don't use chemicals in my garden, I stick to organic pest control methods. And, of course, I would never spray harmful chemicals on my bird feeders, so I went on the hunt for something organic that I could use to keep the squirrels away. I quickly found exactly what I was looking for… Messina Wildlife Squirrel Stopper

I was totally skeptical of using a spray to deter the squirrels. I've heard lots of stories of people who've used liquid pest repellants that haven't worked. Plus sprays need to be reapplied every time it rains, which sounds like a pain. But this stuff really worked. I sprayed it on the bird feeders and on the branches around the feeders and… No more squirrels. Seriously! NO MORE SQUIRRELS!
I love this product line because it's made from the oils of herbs and other plants, so it's all natural, completely non-toxic and won't harm the birds. In fact, it doesn't bother the birds at all, they keep visiting the feeders like usual. The label says it's "pleasant to use", and it really is! The smell is strong, but good. Plus, I don't have to worry about breathing in toxic fumes!
Relate Post: How to Use Beneficial Nematodes for Organic Pest Control
Messina Wildlife Squirrel Stopper is oily so it doesn't rinse off as easy as other sprays, and there's no yucky residue. But, of course, it doesn't last forever, and does need to be reapplied. Since the birds empty the feeders quickly, I reapply the squirrel stopper every time I fill the feeders and that's been working to keep the squirrels away.
I also sprayed the squirrel stopper over the dirt when I planted my bulbs last fall. I've never had an issue with squirrels digging up my bulbs, but I figured it was better to be safe then sorry. I'm not sure if it worked to repel the squirrels, or if they just never came around to dig up the bulbs – but my bulbs weren't dug up.
Messina Wildlife has a whole product line of similar pest repellent sprays for others for other garden pests too. So, if you have furry creatures plaguing your gardens, check out this product line and see if it works for you too.
Related Post: 30+ Deer Resistant Vegetables And Herbs
Disclaimer: For the sake of total transparency, I want to make sure to point out that I've read the reviews on Amazon for this product, and they are pretty mixed – which I find very surprising because this product line has worked well for me. I also used the Rodent Stopper on my beans last year with great results. But please make sure to read the reviews and decide for yourself if you want to give it a try.
Have you tried any of the products in the Messina Wildlife product line? Tell us your thoughts in the comments below.