Your free copy of the DIY Propagation Box step-by-step instructions is on its way to your inbox right now. Here are instructions for downloading it...
Go to your email inbox
Open the email I sent you and click on the link
Save the document to your computer or print it
If you don't get my email within a few minutes, check your spam folder
ATTENTION PLANT LOVERS: Are you tired of spending tons of money buying new plants? Discover now…
How to Easily Grow New Plants So You Can Quickly Fill a New Garden Area or Expand Your Houseplant Collection Without Having to Spend a Ton of Money
This Step-By-Step Guide to Plant Propagation For Beginners Will Show You How To Propagate Your Plants - Even if You Don't Know What the Word "Propagate" Means
Would you like to be able to fill your home and gardens with as many plants as you want without worrying about sticking to a budget?
Are you tired of feeling frustrated at the garden center because you can't afford to buy more than a few plants at a time?
Are you worried that it's going to take you years or thousands of dollars to get all the plants that you want?
I Know What It's Like Because I've Been There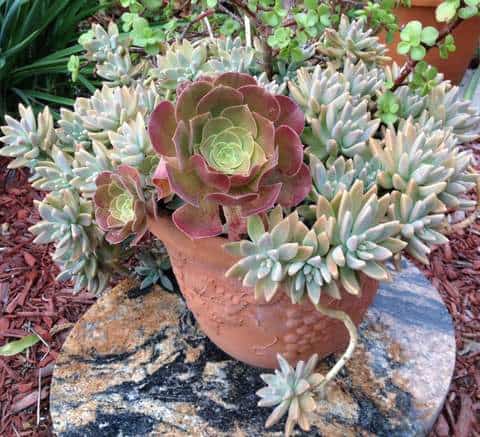 I know what it's like to yearn for having a beautiful collection of plants.
I know it's tough to see all the plants for sale at the garden center, knowing that your limited budget means you have to pick and choose the ones you can buy.
Maybe you've tried experimenting with plant propagation before based on something you read online, but it was an epic failure. It's not your fault.
Most information about plant propagation on the internet is way too technical for the beginner to understand.
You end up feeling like plant propagation is a skill that can only be mastered by a horticulturist.
After buying my first house in 2002, I was totally house poor. I desperately wanted to get some houseplants to spruce up the place and start a garden in my brand new backyard... but I didn't have any money left in my budget to buy plants.
That's when I began learning about plant propagation.
Since then, I've successfully propagated all of my houseplants, and many, many of my garden plants using several plant propagation methods.
Free Plants for the Taking
These plant propagation methods can be used over and over to multiply your plants as many times as you want.
I've simplified the process so that you can quickly become an expert at multiplying your plant collection, and fill your life with all the plants you desire.
Being able to multiply any plant you want without having to spend a dime
Having an unlimited supply of plants to trade with friends and expand your plant collection even more
Quickly filling a new garden area or your home with as many plants as you want for free
Owning a plant collection that rivals that of a garden center
Plant Propagation Made Easy: The Secret To Getting Free Plants
This Money-Saving Ebook Reveals...
How to get started propagating plants without having to buy any expensive equipment
The easiest methods for propagating plants so you can get started right away
How to propagate plants step-by-step using basic techniques
How to fix or avoid common problems in order to be even more successful
How to quickly and easily make your own propagation soils
And much more...
You might be thinking, "Only $5, how good could this be?" There are four reasons why I'm selling this guide at $5.
I remember what it's like getting started while on a tight budget. $5 puts the guide within reach of the vast majority of people. It's not too expensive for anyone who's ready to get started propagating plants.
At the same time I only want to work with people who are serious about learning how to propagate plants. Investing $5 shows me (and more importantly, shows YOU) that you're eager to learn, and will get the most out of your investment.
Anyone who IS serious enough to invest the price of one new plant to buy this guide has the opportunity to multiply their plants and expand their plant collection as much as they want.
I look at this as the beginning of an ongoing relationship with you. When you see how much money this guide will save you, I know you'll continue to work with me to learn more about plants and gardening.
So if you're serious about learning how to propagate plants click the "Add to Cart Now" button below. If you need to justify the expense, skip two lattes this week and it's paid for.
Click the button to get instant access to
Plant Propagation Made Easy: The Secret To Getting Free Plants
30 Day Money Back Guarantee
Read and use the guide risk free for 30 days. If you're not satisfied that it will save you money, just ask for a refund and I'll immediately give your $5 back. No hassle. No questions asked.
Now you have a choice to make.
A few weeks from now you could still be trying to piece together free information you find scattered around the internet, hoping that it will work.
or..
You can follow my Plant Propagation Made Easy guide that simplifies everything I've learned about the easiest methods for propagating plants. Get started propagation plants now.
Click the button to get instant access to
Plant Propagation Made Easy: The Secret To Getting Free Plants
P.S. This guide reveals the simplest methods for easily propagating plants. It will show you exactly how you can quickly start multiplying your plants for next to nothing. As you know, one quality plant costs more than $5. For less than the price of one plant, I'll show you how to grow as many plants as you need.
P.P.S. Remember, your investment is 100% covered by my No Risk Guarantee. You can't possibly lose money. I've made it a no brainer.
Click any of the "Add to Cart" buttons on the page
Log in to your PayPal account OR select "Pay with a debit or card"
Complete your payment via PayPal
Check your email inbox for instructions on how to download your Ebook
Enjoy your Ebook!
Click the button to get instant access to
Plant Propagation Made Easy: The Secret To Getting Free Plants