Watering the garden is one of the biggest struggles for many gardeners, and I get questions about how I keep up with watering all the time. I'm always looking for ways to make gardening easier, and as low maintenance as possible (for me and for YOU!). I mean, who wants to be a slave the their garden all summer? Well guess what, I think I found a solution to our watering woes! I give you, plant watering devices for your garden!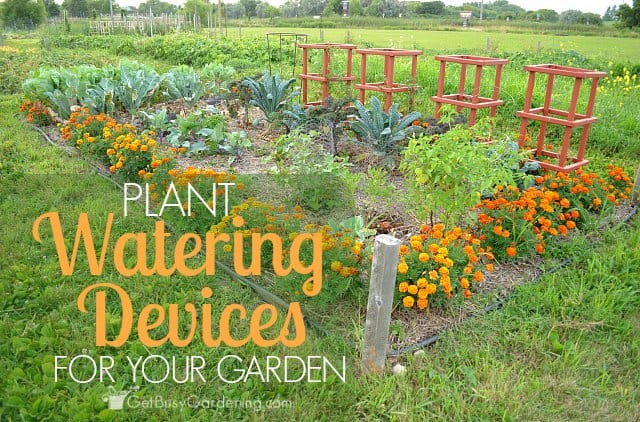 My Watering Woes
A few years ago, we decided to rent a community garden plot because the neighbors trees were getting tall enough to shade my backyard vegetable garden. I love having the extra space to grow vegetables, but it's definitely more challenging than having it all growing in my backyard.

Watering is one of our biggest challenges at the community garden for sure. We have to stand there with the hose and water the garden by hand. Not only is this super boring, it's also time consuming – plus, it's hard to tell if all the plants are getting a good drink of water or not. Constantly watering the garden gets old really fast, especially during the hottest weeks of the summer when the last thing I want to do is stand in the blazing sun watering my garden (which never seems to get enough water during heat waves anyway).
How To Properly Water Your Garden
You may have heard that saying about watering the garden… how does it go again… something like, it's better to water deeply weekly than it is to water shallowly daily. (I'm sure I butchered that, but you get the gist) Anyway, the point is that in order for your gardens to perform their best (and this is especially true for vegetables), the plants need to be watered deeply. Ok… but what the heck does that mean?
Watering deeply means that the water needs to penetrate all the way down to the roots of the plant. If you just spray water over the top of the garden, you're lucky if the water is penetrating 1-2 inches down. Think of how deep the roots of plants like tomatoes get! Yah, I'm thinking they're much deeper than 2 inches.
So, if all you're doing is standing there with a hose spraying water over the top of your plants for a few minutes every day (guilty!), then they're probably not getting the proper amount of water.
Plant Watering Devices For Your Garden
Like I said, it's hard to give garden plants the proper amount of water during the hot, dry summer months unless you install some kind of plant watering system (or have the patience of a saint).
But I can't put in anything fancy like drip irrigation in the community garden because… well, it's a community garden and I don't own it (plus I don't think they'd want me tapping into their water line, haha!).
I've never heard about any other options for plant watering systems made for the garden that didn't require a water source and a timer.
Until now… and I was super excited when I heard about HydroRoot.
When HydroRoot first reached out to me and asked me to test their HydroRoot plant watering devices, the first thing I thought of was that they would be perfect for my community garden! So HydroRoot sent me a bunch, and I get to test them out this summer! I'll be checking in a few times during the growing season to let you know how things are going with my testing, can't wait!
In case you're wondering, here's how the HydroRoot devices work… you plant the HydroRoot right next to the plant so it curves toward the plant (one device per plant), and bury it down to soil level 1-3″ away from the stem. There are holes in one side and the bottom of the HydroRoot, and they are designed to direct the water deep down into the soil, right into the roots of the plant.
HydroRoot plant watering devices makes it super easy to water your plants, and you don't have to stand there with the hose forever. All you have to do is fill them with water, and you're done. Wow, it's so much faster!
HydroRoot also tells me that these watering devices help to control weeds too, because you're only watering your plants and not the entire garden. That makes sense. Plus, they also conserve water, which is awesome for periods of drought! These cute little plant watering devices will make it super easy to use liquid fertilizer on each individual plant too (which is another thing that I'm super excited about).
Of course, these can be used in containers and planters as well, not just in the vegetable garden. You could also use them other places in the landscape, like in your flower garden. The only thing they aren't recommended for using them next to root crop vegetables. Oh, and if you already have a drip irrigation system installed, you can still use HydroRoot to enhance the effect of the drip system.
How I'm Testing HydroRoot Plant Watering Devices
Like I said, I'm testing out HydroRoot in my community garden to see how well they work for me. Here's how I'm testing them… I installed them in only half of my community garden so that I can compare the growth and health of the plants I used them on -vs- the plants that I didn't. What's better than a side-by-side comparison? I can't wait to see what a difference they make (for me, and for my vegetables)! I'm also excited to see if it makes any difference in the weed growth between the two halves of the garden, cause that's another one of our biggest struggles at the CG.
I'm also going to use them on my tomato plants because I think this is going to be a huge help to reduce the infection of soil borne blight (another major struggle at the CG). Since I'll be watering my tomatoes with the HydroRoot, the soil won't be splashing up on the leaves of the plant every time I water (which inevitably happens no matter how careful I am with the hose).
My First Impression Of HydroRoot
Well, if you've read this far, you can probably tell that my first impression of the HydroRoot is great! They were super easy to install, and it didn't take long to pop them into the ground. You don't have to scoop out much dirt to make room for them. Plus, they're nice and durable so if the ground is soft enough, you can just step on them to push them in (which is what we were able to do for most of them).
I am optimistic that these are going to make my life easier, and make a noticeable difference in the vegetable production at the CG this year!
Where Can You Buy These Plant Watering Devices?
You can buy these plant watering devices on the HydroRoot website. Here is the size that I'm testing out in my garden… 12oz HydroRoot. They have more sizes coming soon, and also a few other products for sale on their site too, so check them out… HydroRoot's products
You can also buy HydroRoot plant watering devices on Amazon here.
Like I said, I'm planning on testing them through the entire growing season in my CG. But I tell you what, if I end up seeing awesome results quickly, I don't think I'll be able to wait until next year to install the rest of these in the other half of the garden. Haha! I'll keep you posted.
Have you ever used any plant watering devices or other plant watering systems in your garden before? Please share you experiences below.
More Posts About Garden Irrigation
Pin It!