I love tropical plants because they are beautiful and unique! Here in Minnesota, it is common to grow tropical plants in pots and gardens as annual plants. Tropical plants are not hardy in our harsh climate and will not survive the winters outside. But tropical plants are very expensive, and it's hard to justify the cost of buying new plants every spring.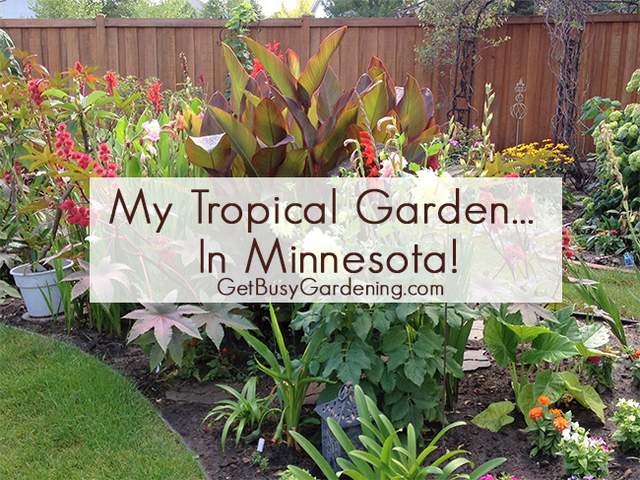 How to Enjoy a Perennial Tropical Garden
The good news is that many of these plants are grown from bulbs or tubers that can easily be overwintered indoors, which saves me tons of money every year. For several years, I have grown canna lilies in my gardens during the summer and my collection of tender bulbs has expanded very quickly.

I used to have to cram the bulbs in throughout my perennial gardens every spring, and there was never enough space for them. So two years ago, I created a new garden area in my yard specifically for growing tropical plants. I call it my tropical garden.
My initial plan was to create a dedicated space where I could plant my canna lily bulbs and fill the remaining garden with the annuals I grow from seed. As it turns out, I filled my new garden space up very quickly and keep adding to it every summer.
My collection of tropical bulbs and tubers has expanded to include several types of tropical plants, not just canna lilies. Every year, I add more bulbs to my collection. Buying bulbs is much cheaper than buying plants, and I can enjoy the same varieties year after year.
Having a dedicated space for growing my tropical bulbs has made it much easier to plant them in the spring. If I have time, I will pull the bulbs out of the basement in early spring and pot them up in the peat they were packed in. This usually gives them a head start.
But other years, I just dump the bulbs into the garden and see what happens. The result is always amazing.
Here are a few of my favorite plants which I grow in my tropical garden:
Elephant ears
Peacock orchid
Canna lily 'Madame Butterfly'
Peruvian Daffodil
Calla lillies
Gladiola mix
Alocasia odora (EE)
Canna lily mix
Canna lily 'Bengal Tiger'
Dahlia 'Le Baron'
Canna Tropicana
Calla Zantedeschia species
Red Spider lily
Calla aethiopica
Crinum light pink
Dahlia 'Rigoletto'
Crocosmia orange
Canna 'Indica'
Watsonia
Dahlia 'New Dimension'
Gladiola 'Tiny Tot'
Castor Bean Plant (not a bulb, I Castor Bean Plant every fall)
More posts about growing tropical plants
Do you grow tropical plants in your garden? Leave a comment below and tell me about your experiences.