One of the biggest struggles I hear from new gardeners is that they're clueless about how to choose the right types of plants to grow in their garden. Going to a local garden center where there are countless plants to choose from, and then having to read all the plant tags to find what might work is extremely intimidating. Wouldn't it be much easier to choose a plant based on the color of the flower and the amount of light it will need – and feel confident that plant will thrive in your garden? Well, guess what. There's an app for that…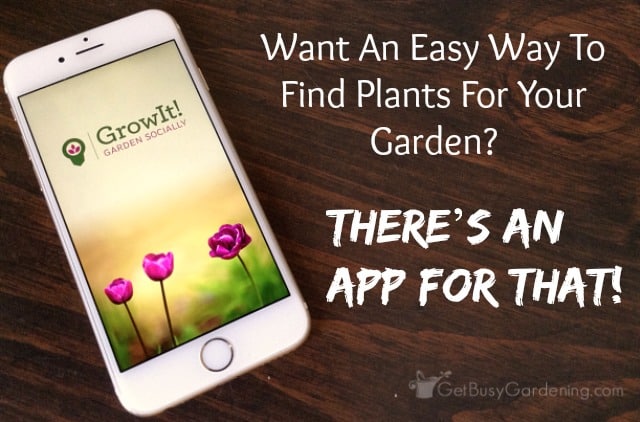 For this post, I've teamed up with the good people from GrowIt!, a gardening app that was created specifically to make it easier for gardeners to choose plants that will grow in their garden. GrowIt! allows you to "Garden Socially", which means you can connect with your friends and neighbors to see what they're growing too. It's also a powerful tool to search for plants that other people in your area are growing – so you can be confident that you're choosing plants that will thrive in your garden!
Garden Socially with the GrowIt! app
I've been using the GrowIt! app for a few months now, and it's a lot of fun (and addicting!). I love that it's a social app that's all about plants. The app is very intuitive, so it's easy to use without any help. But I thought it would be fun to share a few screenshots from the app, and give you some ideas of how to quickly get started using it and having fun! So download the GrowIt! garden app now and let's get started!
Profile
Once you get the app installed on your device, start by adding your name, a photo and some info about yourself to your profile. Just like any other social network, you won't see much activity until you start following people. Makes sense, right? You can either use the search function to find people to follow, or you can browse through photos on the "Explore" tab (more on those features below).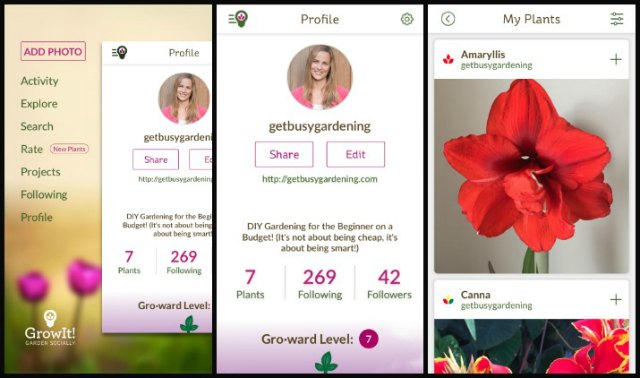 Add Photo (this is how you add your own plants)
One of the main features of the GrowIt app is adding your own plant photos. This is a great way to categorize your plants, as well as get more information about any plants you have. Don't know the name of your plant? No problem! GrowIt! also works as a plant identification app – so you can ask people for help with an ID. Here are my step-by-step instructions for adding a photo of your plant to the GrowIt app…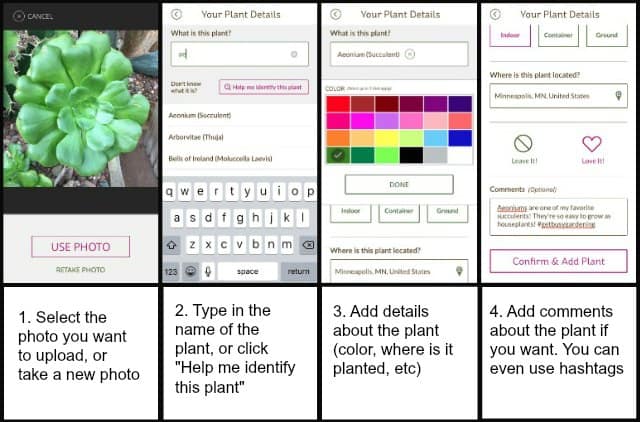 Explore
After you add your location to your profile, you'll be able to see photos from people in your area when you click on "Explore". There might not be many photos in that view when you first get started, but once you start following people you'll see lots of plant photos popping up. This is when the fun really starts!
Now you can filter that view based on things you like or need in a plant. So, for example, if you're looking for plants with orange flowers that grow well in full sun, and are perennials or bulbs – then the app will show you only the plants that have those specific attributes. (Click on the icon with three lines in the top right corner to open and close the filter view)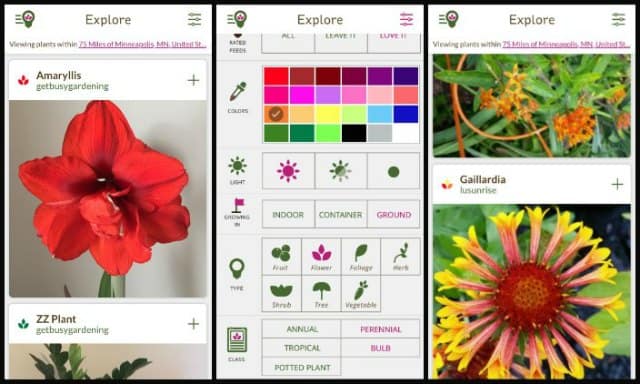 You don't even have to know the names of any plants, you can filter by color, sun exposure, type of plant…etc. in order to find plants that you like. Filtering plants like this is a great way to find plants that will work in your garden, because they are plants that were posted by other gardeners in your area. How cool is that!?
Search
Another powerful feature of the GrowIt gardening app is the search feature. You can search for people you know are using the app (like me!) so you can follow them. Or you can search for people and plants using a hashtag (like #getbusygardening), or by keywords you think people might use in comments (plant names or types for example). This is another great way to look for plants or find people you might want to follow.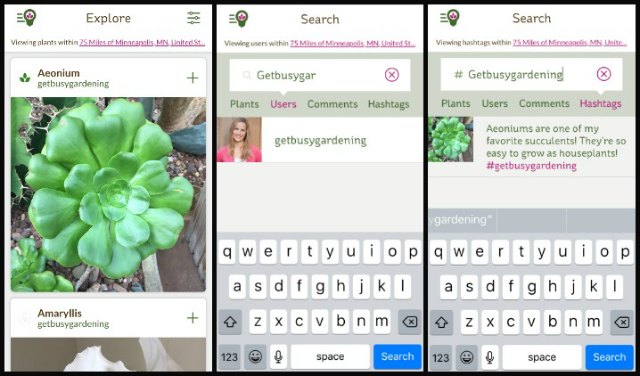 Another thing you can easily do in the GrowIt! app is search for photos of specific plants. Searching for "Jade plant" gave me a bunch of photos of different jade plants that people are growing in my area. Then, once you click a photo, it will bring up tons of information about that plant and give you details on how to care for the plant too – another awesome feature!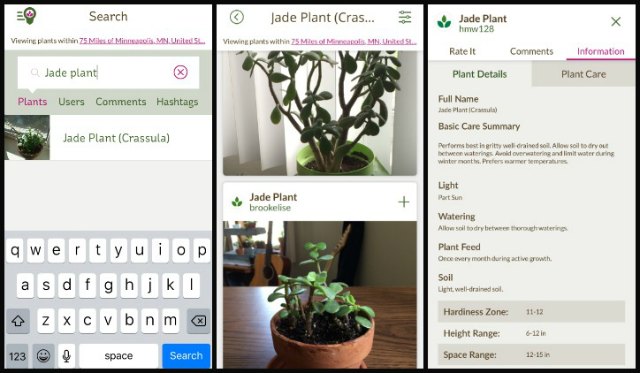 Projects
Another feature of the GrowIt! app that really impressed me is the ability to create projects and add plants you find to those projects. This is a great way to start planning your garden and create a list of plants you like as you find them. For example, if I'm looking for ideas of what I can grow in my vegetable garden this year, I can filter by vegetables and see what other people have grown in their vegetable garden. If I find something I like, I can click on the plus sign at the top of the photo and add it to my project.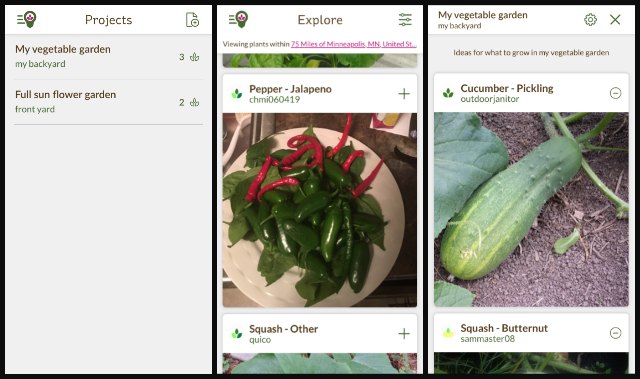 Then when I'm ready to sit down and plan out my vegetable garden, I can scroll through my list of plants (clicking on each one to get detailed care and growing instructions if I want), and I have a head start on planning my garden! You could also use this feature to track all the plants you grow in your vegetable garden every year. Then you can make notes on what worked well, and which varieties you want to grow again (or what you want to skip) next year.
Following
Once you're following a decent amount of people, you'll start to see more and more plants coming through your feed. As you browse through these photos, you can also see plants that people posted asking for help with identification too. So, if you recognize the plant, you can click on it and suggest a name for it. This is another feature of the GrowIt app that I really like. Not only is it fun to be able to ID a plant for someone, it's a great resource to get help with identifying the plants that I'm growing too!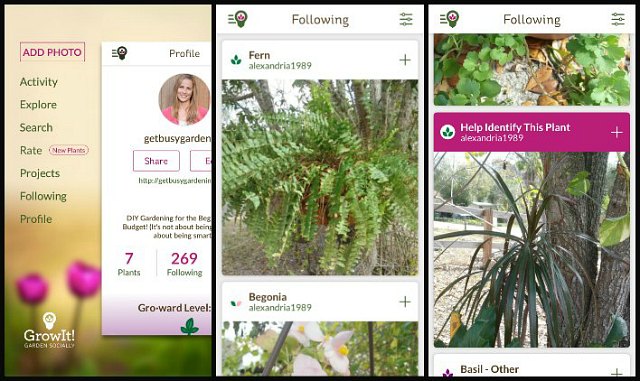 My First Impressions of GrowIt!
I really love the concept of the GrowIt app. It's a fantastic gardening app for people who love plants and gardens! GrowIt! is more than just a plant identification app, it helps you to plan and track your gardens, and also search for plants that will work in your area – helping you be more successful. Just like any other social media network, it's more fun when you connect with friends and family – so make sure to tell them about it so they can join in the fun too!
What do you think? Give the app a try, then leave a comment below and let use know your first impressions.
Pin It!