Finding the best gifts for organic gardeners can be really tough, especially if you're not familiar with organic gardening!
Don't worry, I've got you covered! You're sure to get lots of ideas for the perfect presents for them on this list of organic gardening gifts!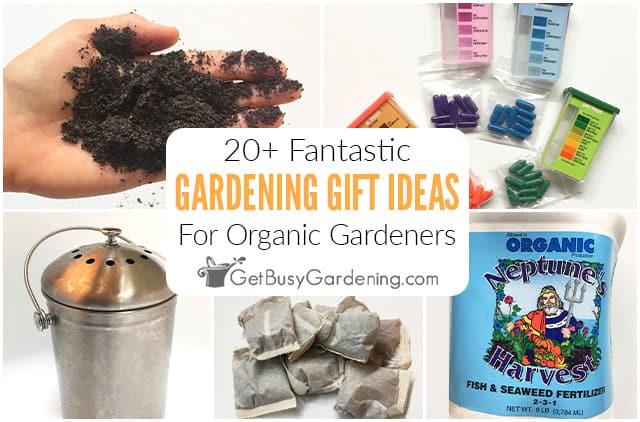 Organic gardening is not only better for the environment, it's better for the gardener as well. The exposure to chemicals can be very harmful to our heath and to our gardens too.
That's why so many gardeners are passionate about using organic methods, and applying only natural gardening products. But buying gifts for organic gardeners can be a real challenge, right!?
So, if you have an organic gardener on your list to buy gifts for holidays like Christmas, Mother's or Father's Day, birthday ideas for gardeners, or even a housewarming gift, then this organic gardening gifts list is for you!
Fantastic Gifts For Organic Gardeners
Take the stress out of shopping for that perfect gift for organic gardeners! This list has tons of great ideas for what to get them for any occasion. So you can be sure to buy them something they will love.

It can be really hard to find good gifts for organic gardeners, especially when you're not a gardener yourself. I hope this list has helped to figure out what to get a gardener who grows organically!
But if you didn't find anything on this organic gardening gifts list that you like, don't worry! I have a ton of other ideas for you. Check out my other gardening gift guides….
More Gift Ideas For Gardeners
Share your favorite gifts for organic gardeners in the comments section below!