People are always asking me for gardening tips, and of course, I love sharing my knowledge! I mean, that's why I started this blog in the first place. I'm always giving you tons of my best tips and advice so you can be a pro in no time!
So, now that the gardening season is in full swing, I thought it would be fun to do a round-up of some of my best tips for gardening to help make you more successful, and so you can have amazing gardens (or at least get you through the summer with less stress!).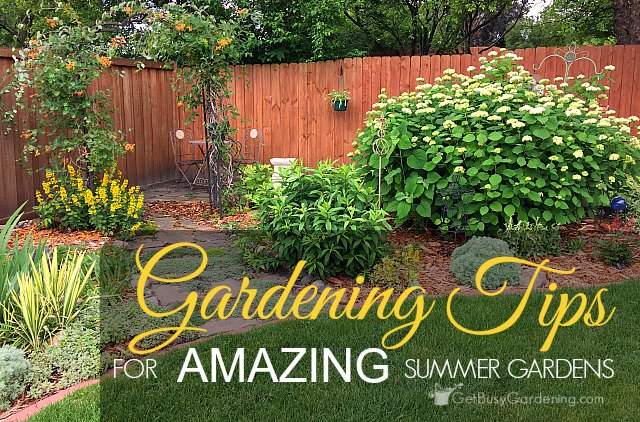 10 Gardening Tips For Amazing Summer Gardens
1. Deadhead plants like chives, black-eyed Susan, salvia, butterfly weed, columbine and other aggressive re-seeders once the flowers fade to keep them from sowing seeds all over your garden. (don't ignore this gardening tip, sometimes these guys can quickly turn into weeds)
2. To keep your garden from looking overgrown and weedy during the summer, prune spring perennials that are done blooming so that the summer blooms can really shine. It's ok to prune back some of the leaves too, just don't cut them down too far, they need their foliage to build energy to bloom again next year.
3. If you're not planning on collecting the seeds, then it's best to deadhead (cut off the dead flower heads) your plants when they are done blooming. This encourages the plant to concentrate it's energy on new foliage growth rather than spending it's energy producing seed.
4. Deadhead the annual flowers in your garden throughout the summer to keep them looking amazing. Deadheading encourages annual plants to bloom more, because they don't have to spend their energy producing seeds.
5. Give your summer containers some TLC to keep them looking their best. Pull out any dead plants, trim plants back to help keep their shape, pinch off the flowers that are done blooming, and add some fertilizer to give them a boost (I recommend organic fish emulsion or compost tea). If the plants are beyond saving, refresh you containers with some frost hardy annuals for beautiful fall color.
6. Enlist the help of beneficial predators like lady bugs, wasps, spiders and praying mantis to help control pest insects in your garden. Flowers like marigolds, zinnias, sunflowers and petunias are great for attracting predatory insects (and pollinators too!) to the garden. (A favorite gardening tip of mine)
7. Skip the toxic chemical pesticides! These types of pesticides are made to kill bugs – and they don't discriminate. They will kill beneficial insects like the bees and predatory insects too. Instead, use non-toxic pesticides to control insect pests in your garden. I use 1 tsp Dr. Bronner's Baby-mild organic soap to one liter of water. Put it into a spray bottle and spray it directly on the pest insects. This works best for small insects, larger insects can simply be picked off the plant and either squished or dropped into a bucket of water to drown them. You could also try other organic pest control options, like or diatomaceous earth or neem oil (if you only take away one gardening tip from this, please make it be this one)
8. Transplanting is hard on plants, and most plants will go into transplant shock, so planning is important. Plan to transplant on a cloudy day if possible, and water the plant well the day before transplanting. Then pick out the new spot and prepare the hole before you even dig up the plant. Add some water to the hole before transplanting to help minimize transplant shock.
9. Do you know how much sun your gardens gets? You might be surprised. Fences get built, trees grow taller (or die), bushes grow wider – and all of these things can quickly change the amount of sun a garden area gets. It's a good idea to track the sun exposure of your gardens every few years to make sure it's not changing drastically.
10. You can increase the population of natural predators in your garden by purchasing them and releasing them in your yard. I release ladybugs and beneficial nematodes in my garden every year.
There you have it, some of my best tips for gardening. I hope these will help you have amazing gardens this year!
Here Are Tons More Gardening Tips…
Do you have any gardening tips you'd like to add to this list? Please share them in the comments section below.