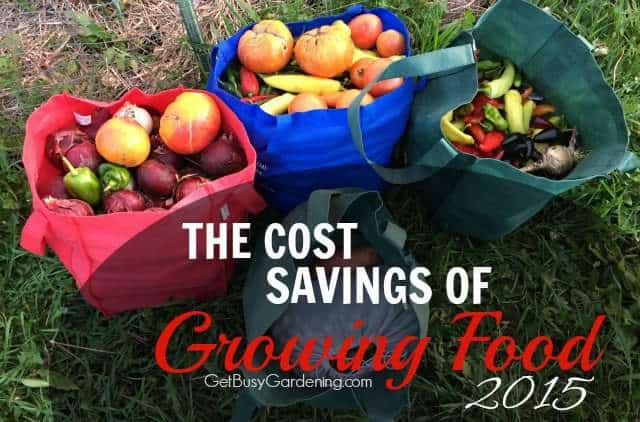 One of my favorite things to do every year is keep track of how much food I grew in my garden, and then add up the totals and share them with you! Here's the deal. Every year throughout the entire growing season I weigh all of my harvests. Then after I'm done harvesting everything, I add it all up and head to the grocery store to see how much it would cost me to buy all of that food.
It's a really fun way to see how much money my garden saves me every year, and the results are eye-popping!!

Check it out, here's the breakdown for 2015…
So, in 2014 I saved a grand total of $857.14 and grew 376 pounds of food!
$857 !?!?! Holy cow!!
WOW!! Another record year! The best year I've had since I've started keeping track of my harvests. Here's a summary of how much my garden has saved me over the past few years.
2012 $346.56 and 162 pounds of food
2013 $587.09 and 243 pounds of food
2014 $740.03 and 338 pounds of food
That's a GRAND total of $2,530.82 and 1,119 pounds of food over the past 4 years. Are you fricken kidding me? That is amazing! If THAT doesn't inspire everyone to grow their own food, I don't know what will.
A few things to note
Unfortunately, I couldn't find prices for all of the peppers and a few other things we grew, since none of our local grocery stores carry these varieties (see list below).
Also the most of the stuff I priced out was not organic (and the food I grow is chemical free). The cost for buying all of this produce in the organic section would have been much higher.
Here's the list of all the other stuff I grew in 2015 that I couldn't find prices for…
One other thing to note is that I grow most of my food from seed, so my costs for growing all of this food are very minimal (next year I will try to remember to keep track of my costs too, I forgot to do that this year). To learn how to grow your food from seed, start here.
By the way, in case you're interested to see the break down of how much I grew and saved in previous years, take a look…
Do you keep track of your harvests? Share your numbers in the comments section below.