For years I was terrible about marking the plants I have in my gardens. More than once, I would see something starting to grow in the spring and wonder "is that something I planted or a weed?". Well, I'd finally had enough of the surprises. A few years ago, I vowed to myself that I would mark every plant in my garden.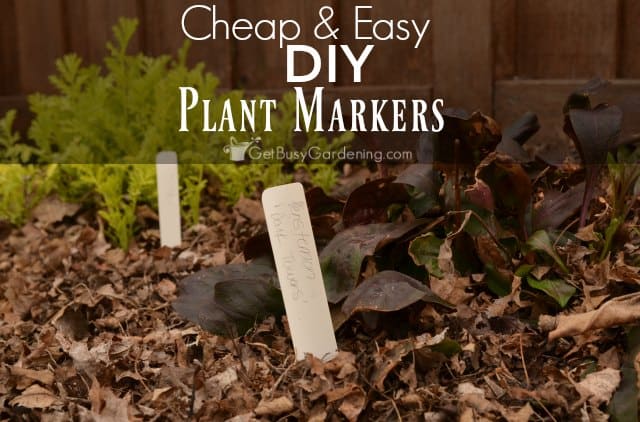 Now for my dilemma: what material could I use to mark the plants, that won't become brittle or fade in the sun? I've tried so many plant markers before that did not work (including those lovely pre-printed tags that come with plants).
Most of them were completely faded by spring or became so brittle they didn't last more than a year or two. (Perhaps this is why I never bothered taking the time to mark everything before.)
The Hunt for Durable Plant Markers
So I set off on a mission to find durable plant markers that won't fade or crumble – without breaking the bank! Well, the search wasn't easy because I didn't find many suggestions. What I found were mostly posts from people asking for a solution to the same problem I was looking for.
But I didn't give up and after looooots of searching, I finally came across an idea that is cheap, easy, holds up to the elements, and recycles old junk! Vinyl mini blinds and a plain old pencil. How simple is that?
The vinyl is durable and won't become brittle or crumble. The pencil won't smudge or wash off and most importantly, it won't fade in the sun! Plus the plant markers are reusable, simply erase the pencil and use the plant markers over and over.
I use these easy DIY plant markers for everything, The vinyl mini blinds are super easy to cut with scissors, and you can cut them to any length that you want. I cut them long to mark the plants in the garden.
That way I can stick the markers way down in the dirt and they won't blow or wash away. I cut them really small for marking my seed containers.
I also use them to mark all of my houseplants, and I can cut them the perfect size for every pot! If you don't have any old vinyl mini blinds sitting around at home, they are very easy to get for FREE! People are throwing them away all the time.
Related Post: Beginners Guide To Gardening On A Budget
Tips for Using Mini Blinds as Plant Markers:
Don't use ink to write on the plant markers, it will fade away in the sun. Even permanent marker will fade to nothing very quickly in the sun. Pencil works the best.
Use light colored or white vinyl mini blinds. The pencil won't show up on the dark colored ones.
Don't use metal mini blinds, the metal will just rust.
Check websites like Craigslist and Freecycle to find free mini blinds. You can also find them for free at garage sales and on garbage days. Check with friends and family too.
If you can't find them for free, check your local second hand store for very inexpensive mini blinds.
Visit the window coverings department at your local department store. Many of them trim vinyl mini blinds, and the trimmings just end up in the trash.
Of course, if you don't want to make your own plant markers you can always buy some like these 6″ plant markers – they work great for marking houseplants, vegetable and annual plants. These 4″ plant markers which work great for small pots and seedlings. Or if you prefer the t-shaped plant markers, you can buy those here.
More DIY Garden Projects
Have you made your own a cheap and easy DIY plant markers? Please share your ideas in the comments below.