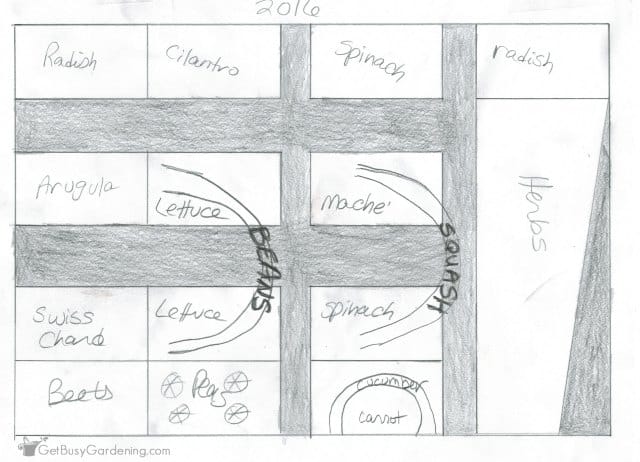 Confession time… I've had my 2016 vegetable garden plan drawn up for a while now, and I've actually already planted most of my seeds in there! I've been meaning to post this for at least a month, but spring has crept up on me super fast this year, and I can't believe it's already mid-March – eek!   Learn how to create your own vegetable garden plan.
Bringing Back the Squash Arch!
A few years ago, I decided to move the squash arch to our community garden. My vegetable garden is mostly shade these days, and I figured the squash would grow better in the full sun at the community garden, then in my part shade home garden. I was right, and got a TON of squash that year. Whew!

But… the squash bugs were so bad up there, and between them and the squash borers, it was a constant battle for the squash all summer. Yuck! So, last year I took a year off from growing squash (well, except for the volunteer plants that decided to grow on their own. LOL!) and I grew cucamelons on my arch instead. Wowzers, are those ever prolific!
Well, I have really missed my gorgeous squash arch, and my garden at home just doesn't look as impressive without it. So this year, I decided that I'm bringing back the squash arch, as you can see in my 2016 vegetable garden plan! I will grow beans on the second arch again.
Not sure what I'll do with the cucamelons at the community garden yet… maybe I need to come up with a new trellis design for them! Ooooo, sounds fun!
More Vegetable Garden Plans…
For more tips on planning your garden, click here… Garden Planning
How do you plan your vegetable garden? Share your thoughts in the comments section below.