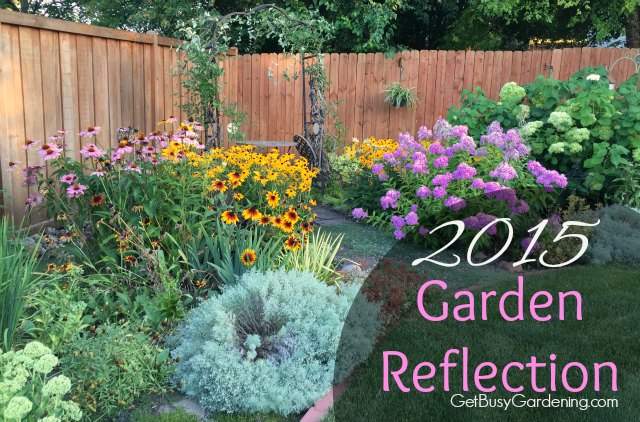 Wow, can you believe another year has passed, and another gardening season has come to an end. Wait, what!? How did that happen? I feel like I just got done writing my 2014 garden reflection, and now I'm writing this one? Whew! Time really, seriously needs to slow down.
I just got done reading through my "Garden Reflection" posts from the last few years. It's so much fun to go back and reminisce about what I did every season, and remember the struggles I had (though, that part's not so fun). Like the year the trees finally took over my vegetable garden (was that already two years ago?!?!), or the 3 year battle I had trying to get all of my 1/2 finished gardening projects moved to my TO DONE list (I blame Pinterest for that one!). Ugh! I can feel the tension in my body bubbling up just reading that post! Those were very stressful days! Haha, at least I can laugh about it now, right?

I've been writing these posts since I started this blog back in 2009! Can you believe it? This is my 6th garden reflection post. SIX?!?! Wow… just wow. Taking the time every year to sit down and write a list of the things that went well in my garden and the things the didn't go so well has been invaluable to me. It has helped me in so many ways, from planning my vegetable garden, and figuring out what I'll grow every year, to knowing what vegetables aren't worth my time, and remembering to take time to enjoy my gardens rather than running around like a crazy person all summer long.
It's such an important exercise, and I encourage each of you to do the same thing. Your Garden Reflection doesn't have to be fancy, just grab a pen and paper, cozy up in your favorite chair and make a list. Or, start a journal in a spreadsheet on your computer. Just get the memories and lessons learned recorded somewhere so you can read them over and over in the years to come.
2014 Garden Reflection Follow-up
I like to start by following up on my "what didn't work so well" items from the last year. My biggest challenges from 2014 were:
Weird weather – I'm pretty sure the weather has always been on my list of struggles. Totally out of my control, but always a key factor! Minnesota is a really hard place to be a gardener. But this year, Mother Nature decided to give us some AH-mazing weather, and my gardens thrived. More on that later.

Mice – Yep, for some reason the mice were a major problem last year, especially in the greenhouse in the fall! I never had that problem before. This year, a neighborhood cat has been hanging around, and I'm pretty sure she's been helping me out. The mice did decapitate one whole row of green beans, but other than that, I didn't have any mice problems this year! Yippie! That cat can visit as often as she wants!
High maintenance squash – Ok, so last year the battle with bugs over my squash was sooooooo bad, and I still had a lot of squash in the freezer, so I decided not to grow squash this year. Well, the Universe had other plans, and I ended up with a couple of volunteer squash plants at the community garden. So I decided to let them grow, vowing to just let nature take it's course, and NOT battle any bugs. Well guess what. I ended up getting a ton of zucchini and never killed ONE bug. I can't believe it! That's gardening for you. Crazy!
2015 Garden Reflection
What worked well…
This was the best growing season I ever remember since I started gardening on my own. So many things went well, it's too hard to talk in detail about all of them, so I will just give a list and quick summary of each.
Cucamelons!! My new-to-me crop this year, and oh man are they ever prolific. Actually, they did TOO well! I couldn't harvest them fast enough, and didn't know what to do with thousands of cucamelons, so a LOT of them ended up falling off and rotting on the ground. I feel bad, but what can you do. I planted 4 vines… next year, I'll only do two (and I'm sure I'll still have way too many).
Onions – Our onions did AMAZING this year. Best crop ever, by far!! In fact, I've never had very good luck growing onions. I think the problem is that they weren't getting enough sun in my gardens at home. I was ready to give up, but my husband convinced me to try a few in the community garden last year as an experiment, and they did pretty well. So this year, we planted a TON of onion starts… and got a TON of huge, gorgeous onions. Wow! Definitely going to do this again!
Weather – Like I said above, our weather was absolutely perfect this year! I never remember a summer as perfect as this one was. It rained just the right amount, and I never had to water the gardens – not even once. And it was never too soggy either. The temperatures were great too! We only had one really hot spell for a few days, and that's it. Man, why can't every year be like this! It makes gardening So. Much. Easier!!
Late first frost – And, the icing on the cake of the perfect weather growing season…. we had a very warm fall. Our first frost didn't come until October 17th, which added a month to our growing season! And what a difference that extra month made to my crops. You guys in warmer growing zones don't know how good you got it!
Giant crops – I'm sure that the weather had a lot to do with this, but this year I got some really giant crops! The ones that were especially huge were my carrots, tomatoes and strawberries, WOW!
Blueberries – This was another new-to-me plant that I got as a gift earlier this year, and they ended up growing really well. I even got a handful of blueberries out of the deal. Read more about The Blueberry Project
Bumper crops – I usually have at least one bumper crop every season, but this year most of my crops ended up being bumper crops. I harvested tons of grapes, lettuce & greens, tomatillos, peppers, herbs…. well, pretty much everything! My freezer is jam-packed!
What didn't work so well…
Keeping up with the harvests – We had a very busy social life this summer, with lots of traveling early on. That made it difficult for me to keep up with the harvests. Actually, it made for a pretty stressful gardening season, and I didn't get to enjoy my gardens much at all this year, since most of the time I had to spend out there was used up by maintenance tasks (and I didn't do a very good job a keeping up with those either). Next year, I think I need to ditch my friends more often. Haha!
Weed control – Busy summer social life = no time for weeding. Ugh! The gardens were due for a fresh layer of mulch this summer, but that didn't get done… so the weeds moved in! Mulching will be the first thing on my list come spring!
Well, I can mark this one down as the best growing season I've ever had, and a pretty awesome summer too. I only wish I would have had more time to enjoy the gardens.
What about you? Share your list of the good, the bad, and the ugly from your 2015 garden in the comments section below.
Read my past garden reflection posts…