Gardening in the shade isn't nearly as fun as gardening in full sun – Yep, I hear this all the time. The reason it's such a common feeling is because most shade gardens you see are BOR-ing. Well I have great news for you, there are lots of gorgeous plants for shade!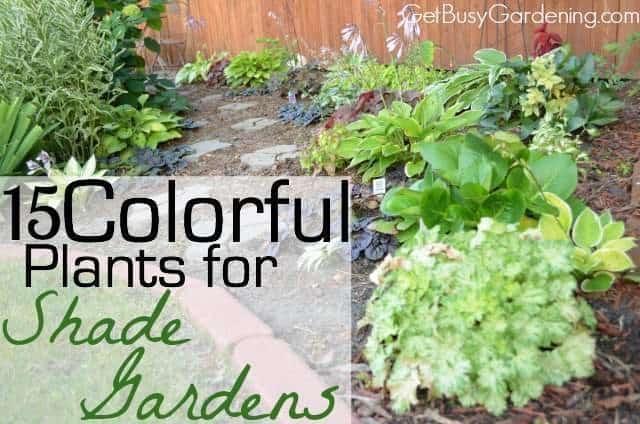 When you think of plants for shade, what's the first thing that comes to mind… is it hostas?
Ok, confession time… I find hostas boring and overdone (at least they are here in Minnesota). Sure, there are tons of varieties of hostas, and if they're mixed well, a hosta garden can be very pretty and even colorful (and I do have a few hostas growing in my shade garden).
But, usually I see the same boring varieties of hostas plopped into a shady spot in the garden. So I say, let's think outside of the hosta box.
Let's put a little more thought into our landscape and come up with creative gardening ideas for shady gardens. Here's a good start.ar
Related Post: How To Determine Sun Exposure In Your Garden
15 Colorful Plants for Shade Gardens
Helleborus – I planted this in my garden last fall, and fell in love with it as soon as I saw the gorgeous blooms in early spring. Helleborus also has some really cool looking dark green foliage, which makes a beautiful backdrop for other colorful shade plants throughout the growing season.
Lungwort – It doesn't have a pretty name, but the foliage is quite amazing. A friend of mine gave me some of the spotted leaf variety (Pulmonaria saccharata) a few years ago, and I couldn't wait to plant it in my shade garden. This cute polka dotted plant is still one of my favorites. Since then, I've added another variety that has silver leaves (Pulmonaria longifolia 'Diana Clare'). Kapow! Those silver leaves really pop in the shade. Lungwort gets small purple flowers in the spring but I love the foliage the most.
Astilbe – The flower spikes on astilbe add major pops of color in the shade garden, but I'm a big fan of the foliage too, it adds interest even when not in bloom. I also like to leave the astilbe flower spikes in the garden for winter interest, they look really cool sticking out of the snow – like little evergreen trees.
Brunnera – Can we just take a moment of silence for this gorgeous plant? …………… Awesome! I had never even heard of brunnera until a friend of mine told me about it a few years ago. Since then, I've purchased every variety I can find. The foliage colors are anywhere from near white, to silver/gray, to variegated, or yellow/green – and all these bright leaves really stand out in the shade. The flowers are pretty too, though I grow it for the foliage.
Bergenia – I got a start of this from my dad's garden because I really liked the light green waxy leaves and the low, compact growth habit. Bergenia leaves are bright green during the summer, and turn redish-bronze when it gets cold. It also adds early spring color when it sends up spikes of tiny flowers. This is a lovely little plant that has lots of character, and I think everyone should add it to their garden.
Bugleweed (Ajuga) – Another one of my all time favorites! Bugleweed can grow anywhere. Seriously. My favorite varieties are pink variegated ('Burgandy Glow' in the photo below), dark purple/almost black ('Black Scallop'), and the green and white variegated one ('Silver Beauty'). Bugleweed also gets lovely purple/pink flower spikes in early summer, though it doesn't flower as profusely in full shade as it does in the sun.
Jack in the pulpit – This is a really cool plant that blooms early in the spring, and the flowers are green. They're unique for sure, but I wish the flowers were a different color so they would call attention to themselves (I sometimes don't notice the blooms until they're withered). Then in the fall, it gets bright red seed pods, which look extra bright in the shady garden. They do seed themselves a bit aggressively, so if you don't want this plant to spread, remove the seed pods before winter.
Coral bells – Who doesn't love coral bells? You can find coral bells in practically any color of the rainbow. You could do a full shade garden using nothing but coral bells, and it would be very colorful. I can't say enough about coral bells, they are a definite must for a colorful shady garden!
Solomon's Seal (variegated) – Variegated solomon's seal makes a wonderful backdrop for a colorful shade garden. The bright variegated leaves really stand out, and it's especially striking combined with plants that have dark foliage. It also gets cute little white bell flowers in the spring.
Bleeding heart – A classic beauty in the shade garden, and one of my favorite spring blooming plants. I love all varieties of bleeding heart, but the one with the chartreuse foliage ('Gold Heart') is… is… well it's so beautiful I want to cry! Talk about adding color to the garden shade. Oh my – be still my bleeding heart! If you don't have this plant in your shade garden yet, go get yourself one right now.
Lamium – There are lots of different varieties of lamium too, but the one I love the most and grow in my shade garden has bright (like, really bright!) yellow leaves and pink flowers (I don't have a tag for it). It's so bright in the shade that it practically glows in the dark. Gorgeous! But be careful with the varieties you buy, because some types of lamium can be very invasive.
Euphorbia (Spurge) – A friend of mine gave me this plant a few years ago, and wow! I had no idea how colorful this plant would be. In the spring, the foliage starts out green with bright yellow tips, then it grows into a eye popping compact bush covered by neon yellow flowers in early summer. I'm not sure which variety I have, but It's so gorgeous! The stems of my spurge collapse after the flowers fade, so I just cut it back to the ground during the summer, which opens up the space for other plants to fill in.
Obedient plant (variegated) – Obedient plants are beautiful, but the variegated one is especially nice. It makes a bright and colorful backdrop in the shade, and even gets cute little purple flowers in the summer.
Irish Moss – When I was looking for a ground cover for my shade garden, I bought a cute little Irish moss plant. I had no idea that it would become one of the stars of my shade garden. Once it's established, it spreads like any other moss – suddenly appearing in an unexpected place one day. Irish moss creates a lush bright green carpet on the ground, and it doesn't mind one bit if you walk on it. This is the perfect ground cover for a colorful garden, and great for growing in the cracks and crevices of a garden path.
Loosestrife (Lysimachia) – There are tons of varieties of loosestrife, and I especially love the variegated varieties. My two favorite types of loosestrife for adding color to my shade garden are 'Alexander' (white/green variegated leaves) and 'Golden Alexander' (yellow/green variegated leaves). Be careful about which type of loosestrife you choose, because some are very invasive (purple loosestrife is on the invasive species list in Minnesota).
I hope I've given you some creative gardening ideas for colorful shade gardens. Next time you're at the garden center, I challenge you to think outside of the hosta box and get yourself some amazing plants to create your own colorful shade garden.
More Great Posts About Garden Plants
What are your favorite plants for shade gardens to add to this list?