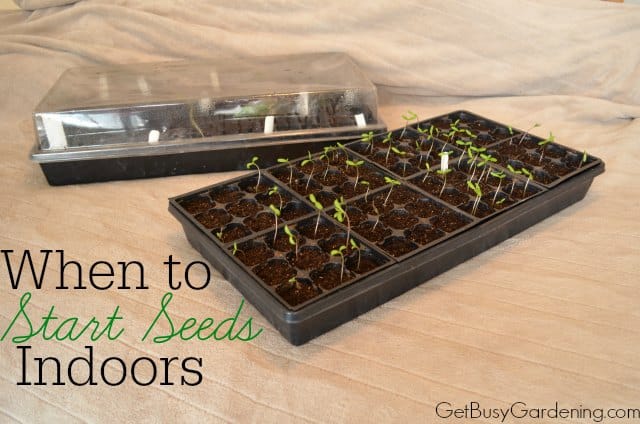 Starting seeds for your garden is much cheaper when compared to buying plants, and it's a great way to save yourself some money. Plus, with seeds you aren't limited to the few varieties garden centers sell in the spring, so you can plant tons of cool stuff in your garden. But knowing when to start seeds indoors is difficult for new gardeners, and it's one of the most common questions I get asked.
Timing is very important when it comes to starting seeds indoors. If you start your seeds too early, you could end up with weak, leggy seedlings by the time it's warm enough to plant them into the garden. But if you start your seeds too late, the seedlings won't be mature enough for transplanting. It takes a little practice, but don't worry – with time you will know exactly when to start your favorite seeds.
Knowing When To Start Seeds Indoors
There are lots of different seed starting charts out there, and they can be helpful to use as a guide. But, there are so many factors involved in the timing of starting seeds that it's best to come up with your own personal seed starting schedule. If you're just starting out, you can follow these simple guidelines to figure out when to start seeds indoors…
Take all of the seed packets you plan to start indoors and sort them by the recommended sowing date shown on the packet. Most seed packets will give you recommendations for when to start seeds indoors. Generally, it will be something like "4 to 6 weeks before average last frost", or 6 to 8 weeks…etc.
Unfortunately, not all companies include this information for you (I guess they like to keep us guessing). So if your seed packet is less than helpful, plan to start those seeds 6 to 8 weeks before your average last frost date. (if you don't know your average last frost date, visit your local garden center and ask them)
Once you have all of your seed packets sorted into piles, store them this way so when it's time to start your seeds each week, you know exactly which ones to start at the same time.
Write Down Your Seed Starting Dates
Keep track of when you started each type of seed indoors, and how well each of them did. Then, next year you can make adjustments. Any seedlings that became too large before you were able to move them outside should be started a week or two later next year. Any seedlings that were too small to transplant into the garden should be started a couple weeks earlier next year.
Once you get the hang of knowing when to start seeds indoors, you will have your own seed starting schedule to go by year after year. You'll start to see patterns for certain types of vegetables and flowers, and know which ones to start at the same time – which will make starting seeds much easier for you.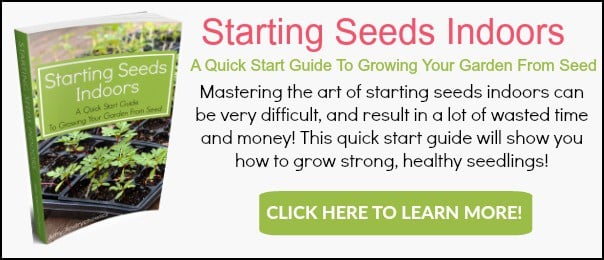 More Information About Growing Seeds:
For even more information about how to start seeds inside, and tons of tips for starting seeds indoors, click here… Sowing Seeds
Have you created your own seed starting schedule so you know when to start seeds indoors? Share your experiences and tips in the comments section below.