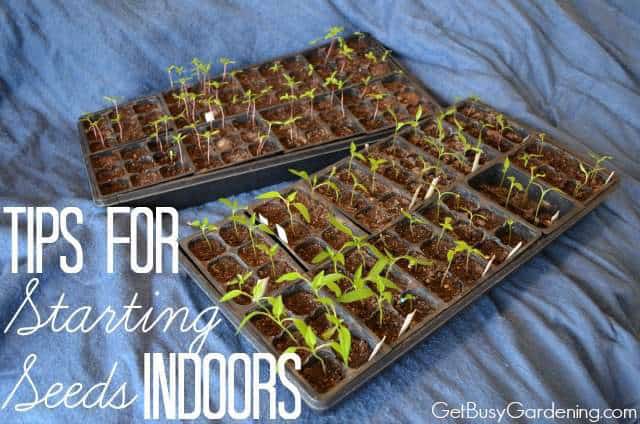 Recently I posted details of a different way to start seeds for your garden with a method called winter sowing. If you're too nervous to try the winter sowing method to start your seeds, I completely understand! I was nervous too and continued to use the traditional method along with winter sowing for the first two years.
In this post I will talk about how to start seeds inside, and give you some tips for starting seeds indoors to get a jump start on your garden.
Tips For Starting Seeds Indoors
Know when to start seeds: Read each seed packet to determine when is the best time to start your seeds indoors; generally you need to start seeds six to eight weeks before last frost. Starting seeds too early will result in weak and leggy seedlings, which may not survive the transition to the garden. Read more about… When To Start Seeds Indoors
Seed starting flats: There are lots of options for indoor seed starting equipment, and seed starting flats are no exception. The best type of flats to use are the type that have a tray, a clear top and several cells. These flats can usually be purchased wherever seeds are sold, or you can buy seed flats here. If you are planning on reusing your flats, it is crucial to clean and disinfect them first. Wash them in soapy water, then soak in a one-part bleach to nine-parts water solution. This will help prevent seedling blight (a fungus that causes seedlings to die off at the base), which is a common problem when starting seeds indoors.
Soil for starting seeds: Don't cut costs when it comes to the soil you use for starting seeds indoors, the quality of the soil is very important when starting seeds. Spend a little more money and buy potting soil that is specifically made for starting seeds (like this seed starting mix) – that is the best seed starting mix. Quality dirt will help with germination (sprouting), and give your seedlings a healthy start in life. You can start seeds indoors with a general potting soil if you prefer, but it usually tends to be too heavy for starting seeds, and they might not grow very well.
You can also make your own DIY seed starting dirt using a mix of coco coir or peat moss, perlite and vermiculite, or you can use seed starting peat pellets. Whatever you do, make sure you always use fresh, sterile potting soil for starting seeds. Never use soil from the garden to start seeds in containers! Soil from the garden contains bugs and pathogens that can harm seeds and seedlings when seeds are started indoors (and who wants to bring all that into the house anyway?).
Heat: Adding bottom heat will also help with seed germination, the seeds will sprout much faster when you add bottom heat. Seed starting heat mats can usually be purchased at a local nursery, or you can buy a heat mat here. You could also put your seed starting flats on top of a radiator or heat vent instead of using a heat mat. Just make sure to keep a close eye on the moisture level of the soil; heat sources like this can dry out the soil much quicker (heat mats won't dry out the soil faster).
Location: A south facing window is the ideal spot for starting seeds. But, if you don't have a south facing window, find the warmest room in your house. Warmth triggers the seeds that it's time to start growing, and seedlings will grow better in a warmer room -vs- a cold room. You can always add a space heater if your seed starting room is too cold.
Humidity: The clear plastic lid that comes with a standard seed starting flat is for keeping the humidity level high inside so that the soil doesn't dry out. Seeds need consistently moist soil in order to germinate (sprout). If you left the soil uncovered, it would be much harder to keep the soil consistently moist. Leave the lids on the flats until most of the seeds in the flat have sprouted, or the seedlings start to touch the top of the lid.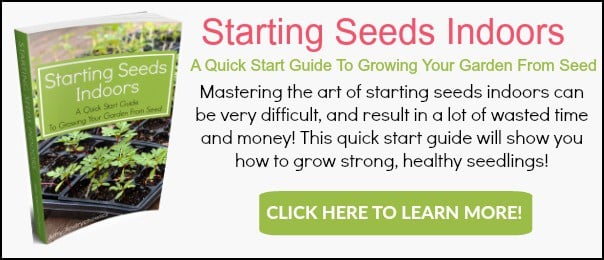 More tips for starting seeds indoors
For more information about how to start seeds inside, and tons of tips for starting seeds indoors, click here… Sowing Seeds
Share your tips for starting seeds indoors in the comment section below.
Products I Use For Starting Seeds Indoors