Jade plant houseplants are a mainstay in my plant collection. Jade plants are easy to care for, and they make great houseplants. There are several different types of jade plants too, I have four in my collection (and I love every one of them!).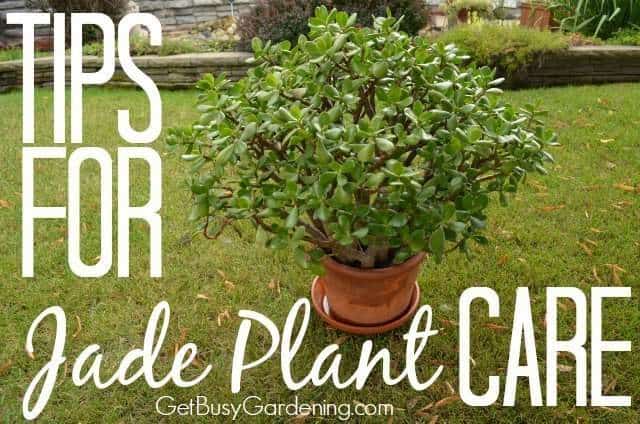 In addition to the common jade plant succulent, I have 'Gollum' variety which has really cool leaves that are long, narrow and rounded. I've also heard this variety of jade plant called E.T. fingers or baby toes.  I have a miniature jade plant which is super cute (this one didn't have a tag when I got it so I'm not sure of the variety). It looks very similar to the regular jade plant, but it's much smaller (as the name would suggest). The other type of jade plant I have is called 'Jitters', and it has wavy leaves.
Tips for Jade Plant Houseplants Care
In my experience, the two main keys to successfully growing jade plants is watering and light.
Water
First, and probably the most important tip for growing jade plant houseplants is watering. Jade plants do not like to be over watered. Consistent over watering is fatal to jade plants. If the plant is over watered on a regular basis, it will start to rot at the base. Be sure to always check the soil of a jade plant before watering it, and water only when the soil is dry. You could also use a soil moisture gauge to monitor the moisture level. To check if your jade plant needs water, stick your finger one inch into the soil. If the soil is damp, don't water your jade plant. It's better to err on the side of under watering this plant. I put my jade plants outside during the summer and only water them if we're in a drought. I water my jade plants about once a month during the winter months, if they need it.
Light
The second most important tip for growing jade plant houseplants is light. Jade plants need a lot of light in order to grow strong and thick. They will start to grow weak and leggy if they aren't getting enough light. It's best to place jade plants next to a south facing window inside the house. If the plant isn't getting enough light, consider adding a grow light. Indoor plant grow lights will help to give your jade plant enough light to thrive if you don't have a sunny window to put it in. When jade plants get enough sunlight, the stem of the plant will grow thick start to look woody. Also, the leaf tips of the jade plant will turn red, making these plants even more beautiful.
Jade plants kept as houseplants will benefit from being moved to a full sun location outside during the summer. However, they are sensitive to sunburn, so it's important to move them into the sun gradually over several weeks. Sun burned leaves will turn brown and the damaged area will die; most likely the leaf will eventually drop off. Severe sunburn may be fatal to jade plants. If you put your jade plant outside during the summer, be sure to bring it back inside before any chance of frost.
Related Post: Debugging and Cleaning Potted Plants
Other Tips for Jade Plant Houseplants Care
Soil
General potting soil is adequate for growing jade plants, but it's best to use a lightweight and quick draining succulent soil. You can buy succulent soil online, or anywhere general potting soil is sold. I make my own succulent soil mix, using a light mix of coarse play sand, potting soil and perlite. If you tend to over water plants, put your jade plants in a clay pot. Clay pots will help to wick the water out of the soil, allowing it to dry out faster and lowering the chance of over watering.
Propagation
Jade plants are extremely easy to propagate. They can be propagated from stem or leaf cuttings in slightly moist, well drained soil. I have found that summer is the easiest time for propagating jade plant cuttings. During the summer, many times a leaf will break off and start to grow roots in the soil without any help from me. If the stem of your jade plant is mushy and rotting due to over watering, you can save the plant by cutting off the stem a few inches above the rot and then propagating it. Allow the cut area to dry for a few days before attempting to propagate the plant. Rooting hormone helps to speed up the process of propagating jade plants (and all plant cuttings), I highly recommend it.
Pests
Healthy jade plants don't usually have problems with pests. Mealybugs, scale and mites can become a problem on jade plant houseplants if not treated early. My jade plant had a minor infestation of mealybugs one winter. I treated it by dabbing a cotton swab in rubbing alcohol and using that to remove the bugs (you can use the same treatment for other pests infestations as well).
Neem oil is also very effective at controlling jade plant pests. After several weeks of doing this daily, the mealybugs were gone and I haven't had a problem since. Organic insecticidal soap or a horticultural oil spray can also help to control jade plant pests. Be careful spraying anything on your jade plant succulent. Jade plants are sensitive to sprays, which could end up causing more damage than the bugs. If you choose to use a spray to treat a pest infestation on your jade plant, test a small area of the plant first, then wait a few days to make sure there's no damage before spraying the whole plant.
Related Post: How To Propagate Jade Plants
Pruning
Pruning the leaves of jade plants will keep the plant compact and allow the stem to grow thicker. Pinch off new growth or trim off leggy growth to encourage the plant to grow fuller and thicker. If you want, you could use the cuttings you trim off your jade plant succulent to make new plants (see the propagation section above).
Jade plants are one of my favorite houseplants. They are low maintenance indoor succulent plants, easy to take care of, and they're beautiful too. There are several varieties of jade plants, and it's fun to collect them.
Recommended Reading…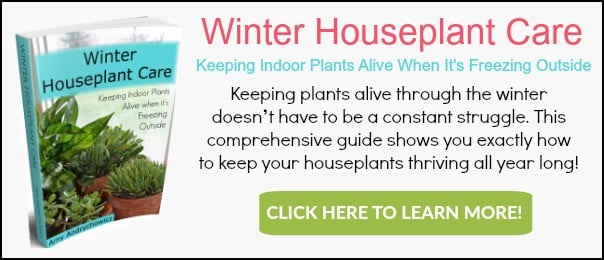 More Posts About Growing Succulents
Products I Recommend
For more information about different types of houseplants for your indoor gardening space, click here… Houseplant Types
Do you grow jade plant houseplants? Tell me about your experiences in the comments section below.
Pin It!