Here in Minnesota, the changes that occur in my gardens over a few short months are staggering – nothing short of amazing. I often look at my gardens in the early spring, just after the snow melts and think about how different they will become over the next several days and weeks.
Today, I will pause for a moment to take it all in. I want to remember how this looks and feels, and how it smells. I want to write it down, and share it with you. This is my garden today as I feel it, really feel it. Enjoy it, because tomorrow it will be different.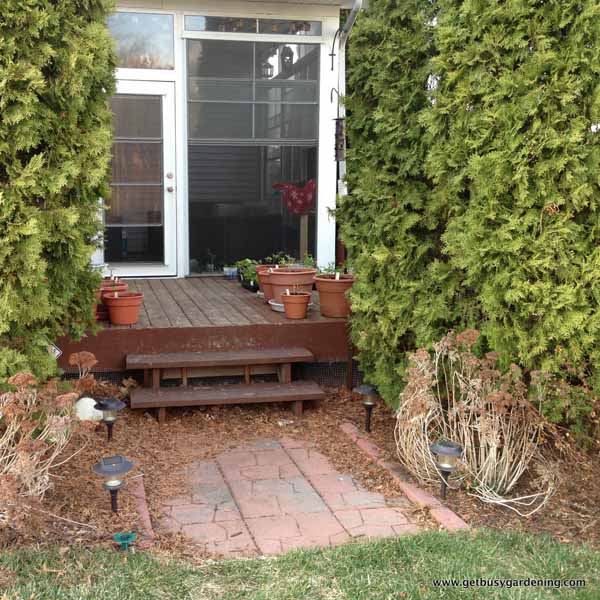 I walk out the back porch door, cross the small deck, and descend two stairs to the ground. After a few short steps, I find myself standing in the grass directly in front of my large perennial garden. I close my eyes so I can use my other senses to describe what photos can't capture.
I stand there and take in the sounds, feelings and smells of my spring garden. It definitely feels like spring, but I can tell summer is just around the corner. The sun is warm on my face, and it feels fantastic after the long cold winter we've had. A light breeze stirs, and a few strands of loose hair tickles my face and neck.
I can hear the rustling of old leaves still hanging on the trees, and blowing around on the ground. The sounds of the busy birds chirping and chattering is louder with my eyes closed. They are happily singing their spring songs, and fluttering about in the arborvitaes behind me.
I take a long, deep breath through my nose… ahhh, it smells like spring. I can smell the strong, earthy odor of wet dirt, rot and worms. I think – that sounds disgusting, but it smells wonderful.
When I open my eyes, directly in front of me and to my left I see bare gardens that are about to spring to life. I'm aware of the dead growth from last summer waiting to be cleaned up and composted, that's on my to do list. I see the small area of my new shade garden. It's nagging me to figure out what I'll do with it this year, and looking at it makes me feel anxious. I force these negative feelings to pass. As I stand there taking it all in, I can't help but wonder if the few hostas I planted last fall have survived the winter. Time will tell.
To my right, I see my tropical and annual gardens waiting to be planted with beautiful flowers. They are empty, stripped down to the raw dirt. I have a fleeting thought that my vegetable garden would be the same way right now too if it wasn't for my greenhouse. Then I wonder what new, fun things I will find to add to these gardens this year. I see their potential, and I'm excited to get them started.
Also on my right, and slightly behind me, I see the large spans of lawn, with my rain garden and greenhouse in the distance. I would love to add a larger pond that would take up some of this open space, but that's a project for another year – maybe.
The grass beneath my feet is squishy, and still mostly brown. There are some hints of new growth starting to peek out, I wonder how much longer it will be until the grass is green again. I am wearing flip flops, and the grass that's scratching against my bare skin feels like straw. I can't wait until the grass is green and soft, so I can walk through it barefoot.
I look up and see that the sky above me is a beautiful calming blue. I see birds flying every which way, and a few white fluffy clouds moving slowly in the distance. The neighbors trees are getting taller, and they are poking up into the blue sky. Their branches are still bare, but the buds are starting to swell. Soon they will explode with color.
I love the spring, it's full of potential and I'm excited to see how my gardens will grow and change this year. I know there will be times of chaos, pain, frustration and exhaustion. Through it all, I just have to remember that every once and a while I should stop – take a deep, cleansing breath… and just feel it.