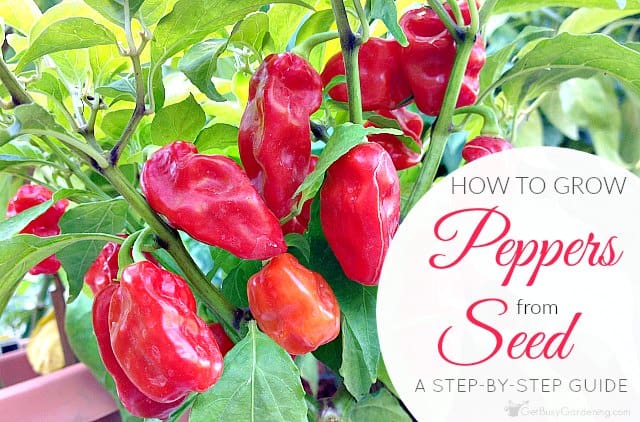 Peppers are some of the easiest vegetables to grow from seed. I grow several different types of peppers from seed each year, both hot and sweet varieties. Some of my favorite pepper varieties to grow are cayenne (hot), habanaro (hot), jalapeno (hot), bell (sweet), pablano (mild) and purple bell (sweet)
Related Post: Easiest Vegetables to Grow from Seed
Here in Minnesota, our growing season is too short to sow pepper seeds directly in the garden. In climates that have shorter winters, some people sow pepper seeds using the winter sowing method. But in cold climates like mine, the best way to get a good crop of peppers is to start pepper seeds indoors 8-12 weeks before the average last frost date (our average last frost date in Minneapolis is May 15th).
One quick note before starting… if you're planning to start jalapeños from seed (or any other hot pepper), I recommend wearing gloves. I wear contact lenses and have had a few bad experiences taking out my contacts after handling any part of a hot pepper, including the seeds.
How To Grow Peppers From Seed
When I use seed starting flats or peat pellets, I plant one pepper seed per cell or pellet. If I'm using a large flat, tray or pot, I plant several pepper seeds per container, spacing the seeds a little over an inch apart. I like to lay the pepper seeds on top of the soil to get them spaced out, then push them down into the soil and cover them with dirt.

You could also make the holes first, then drop the pepper seeds in and cover. If you choose to start pepper seeds in seed flats or other containers, be sure to use a light-weight commercial seed starting soil mix, or make your own DIY seed starting mix.
Related Post: Disinfecting Seed Flats and Trays
Planting Pepper Seeds
The rule of thumb for sowing seeds is to plant the seed twice as deep as it is wide. So for pepper seeds, push them down about a 1/4″ – 1/2″, then cover them with dirt. Once all the pepper seeds are sown, water them well and keep the soil evenly moist (but not soggy) until the seeds start to grow. Pepper seedlings don't like soggy soil, but never allow the soil to dry out completely. Be patient, pepper seeds can take two or more weeks to germinate, some varieties will start to grow faster than others.
Add Bottom Heat
Pepper seed germination is best when the soil is kept warm, so you can put the flats on a seed starting heat mat or over a heat vent if you have it. Bottom heat is not required, it just speeds up the pepper seed germination process.
Pepper Seedlings Need Light
The nice thing about peppers is that the seedlings is that they grow fairly slowly, so pepper seedlings don't need a ton of extra light to grow indoors. I usually start mine in a south facing window without any additional light. But, if you find that your pepper seedlings are reaching for the window, then you need to add a grow light to prevent them from getting leggy. A small grow light would work for a couple of pepper seedlings, but you'll need a larger grow light system or a shop light fixture with grow light bulbs for seed flats.
Related Post: A Beginner's Guide To Grow Lights For Seedlings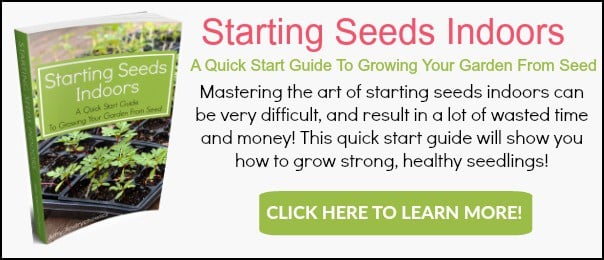 Fertilizing Pepper Seedlings
Once your pepper seedlings start to grow their true leaves (that is, any leaves that grow after the first two sprout leaves), it's time to start fertilizing them, but you don't want to feed seedlings a full dose of fertilizer. It's best to start with a weak dose at first, and slowly increase the strength of the fertilizer as your pepper seedlings grow larger.
I recommend using a natural, organic fertilizer rather than chemicals. I use (and highly recommend) fish emulsion and an organic compost solution on all of my seedlings – they work better than chemical fertilizers and are much healthier for the environment, and for you. Read more about how to care for seedlings in this post… What To Do With Seedlings After They Sprout
Potting Them Up
Once your pepper seedlings have started to outgrow the seedling trays, it's a good idea to pot them up into larger containers to give them plenty of room to grow. I like using plantable pots to make it super easy to transplant my pepper seedlings into the garden. But you could use small plastic nursery pots, or even recycled containers like yogurt cups or small milk cartons.
Don't forget that pepper plant seedlings started indoors will need to be hardened off before planting them into the garden. Read my tips for starting seeds indoors post for more details and general tips for starting seeds indoors.
If you've never started seeds indoors before and have been wanting to try, I recommend starting with pepper seeds. You will be rewarded with an abundance of peppers this summer, which makes it well worth the effort.
More Tips For Growing Vegetables From Seed
For more information about how to start seeds, and tons of tips for starting seeds indoors, click here… Sowing Seeds
Have you ever grown peppers from seed? Tell me about your experience in the comments below.
Pin It!