The winter of 2009 will forever be remembered as the year of the worst houseplant pest outbreak I've ever had. I found aphids on one of my houseplants, and the infestation quickly spread to over half of my houseplant collection. I spent the entire winter battling them, and I was on the brink of throwing all of my houseplants out into the snow and giving up. (how you like me now aphids?) But in the end, I won the battle, and my houseplants remain aphid free to this day (knock on wood). You can win the battle against these destructive plant bugs too!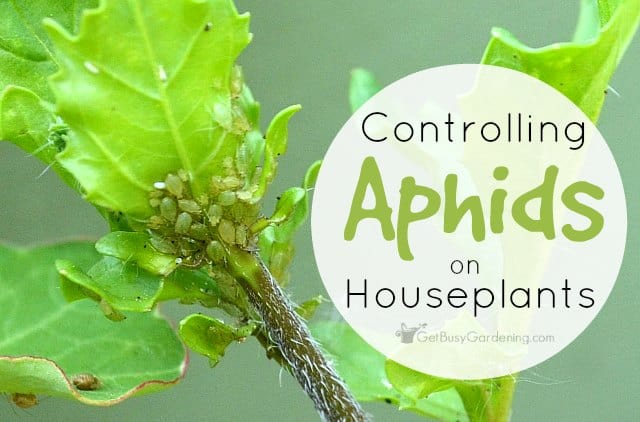 What Are Aphids?
Aphids come in many varieties and can be just about any color. They are small and fat and juicy – and gross. They can also have wings, but winged aphids are less common. Like most indoor plant pests, aphids feed on a houseplant by sucking the sap from the leaves. They like to cluster and feed on the new growth and flower buds of a plant, which causes stunted growth and deformed leaves/flowers. Thankfully, aphids don't cause catastrophic damage to a houseplant, and infestations aren't usually fatal.
Related Post: How To Kill Whiteflies On Houseplants
Aphids multiply quickly, the life cycle of an aphid is about one week. You may notice a bunch of tiny white flecks on the leaves and around the base of the houseplant several days before seeing the adults – those are the eggs. Every time I've seen white flecks on a houseplant, sure enough a few days later adult aphids would appear. Where do houseplant pests come from? If you have aphids on your indoor plants, they probably came in on a plant that spent the summer outside. They could also come from flowers or produce that has been brought in from the garden, or from the grocery store.
How To Control Aphids on Houseplants
If you discover aphids on a plant, act fast because they can spread like wildfire to your surrounding houseplants. Aphids can become immune to synthetic chemical pesticides, so it's best to use all natural pest control methods to kill these pests. Plus, you don't want to use toxic chemical pesticides in your home, so we'll stick to talking about safe pest control methods (that work better anyway!).
Related Post: Controlling Houseplant Scale
Just like with any plant pest problem, persistence is key to winning the battle. Knowing the type of houseplant pests you're dealing with, and different ways to control them are the first steps.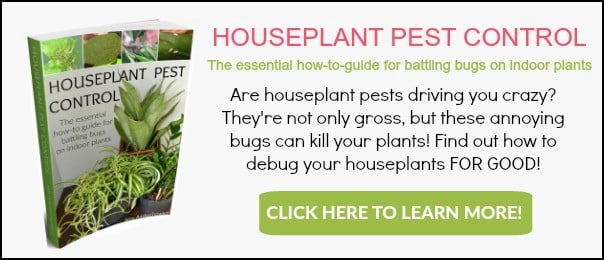 More Information About Houseplant Pest Control
Organic Pest Control Products I Recommend
For more information and tips for how to combat those super annoying indoor garden pests, click here… Houseplant Pests
How do you control aphids on your houseplants? Leave a comment below and share your tips.
Pin It!